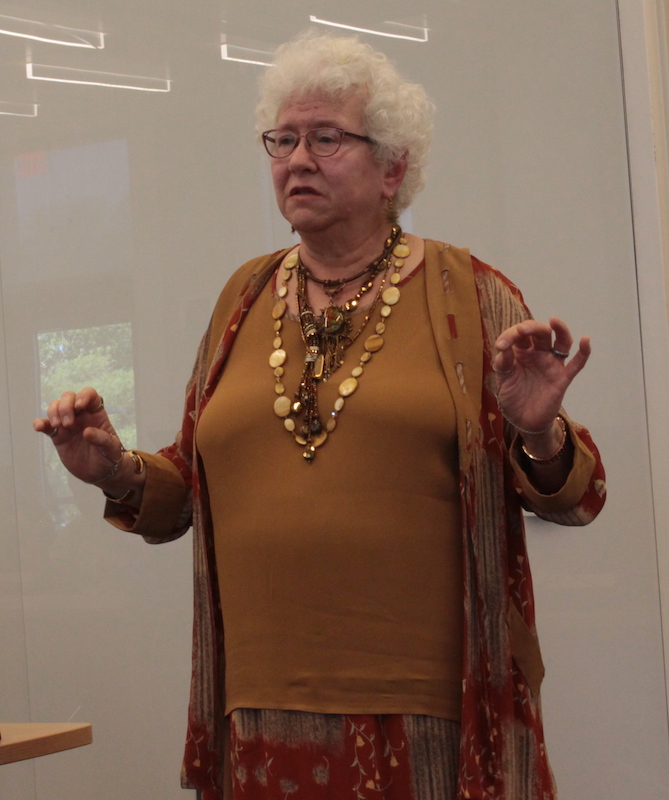 By Michael Reina | Sept. 19, 2019
Traditionally, Native Americans have not viewed themselves as owners of land, but rather as protectors of it. And that view may offer a roadmap for addressing our current environmental crisis, according to Carla Messinger, director at the Native American Heritage Programs. 
This message was part of Messinger's recent lecture at Rowan University, entitled "America's Original People: Keepers of the Land and Water"
Messigner, who is an author, speaker and descendent of the Lenape tribe, talked about common misconceptions and stereotypes of the original inhabitants of North America. Then she outlined how Native Americans have long been the victims of environmental racism. 
"Two of the hazards greatly affecting Native people on reservations are highly toxic mine waste and contaminated water," said Messinger. "[For example] between 1944 and 1986, mining companies blasted 4 million tons of uranium out of the Navajo nation."
These examples of historical threats to Native land and water are now threats to the entire planet, she said. "Climate change was once called the Indian problem and is now everyone's problem."
Messinger also warned that much of the current environmental activism is detached from native communities as well as other communities of color.
"There are so many minority communities that are alienated by the environmental issue," she said. "They don't feel like they are part of the answer." 
Still she expressed hope for the future and urged the audience of university students to work for change.
"By helping, by volunteering, by doing a paper, getting a job or internship, by teaching your children and grandchildren one day…[You can] make the whole world a better place."
The event was a collaboration between the College of Humanities & Social Sciences, the School of Earth & Environment, and the Rowan Center for Responsible Leadership. It was funded through support from the National Endowment for the Humanities "Cultivating the Environmental Humanities" project.
This story is part of our participation in a statewide climate reporting collaboration with members of the NJ College News Commons, a network of campus media outlets working together to cover the climate crisis in New Jersey.