At her home in Linwood, Caren Fitzpatrick's lawn sprouts native flowers and clover. Butterflies and bees buzz. Non-toxic tree tape, rather than pesticides, help control the mosquitos.
"It's easier to keep things natural than to try and control the environment," said Fitzpatrick, an Atlantic County Commissioner. "We live in such a beautiful area, and it's our responsibility to protect it."
Fitzpatrick is also co-chair of the New Jersey Leadership Council of Elected Officials Protecting America (EOPA), a national organization where lawmakers and civil servants work to solve the climate crisis and educate legislators on ways to protect the environment. So choosing a more natural and eco-friendly landscaping rather than a traditional lawn made sense to her.
"Just look outside, and there's proof that our world is on fire," she said. "How much more proof is needed before it's too late?"
While the estimated 40 million acres of lawns in the United States help soak up carbon dioxide from the atmosphere, they also pose a number of environmental problems that experts say outweigh the benefits – and contribute to climate change.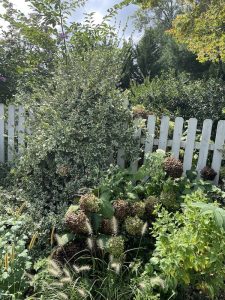 Lawn grass – or "turf grass" – uses more water than any other crop in the United States. 
The Environmental Protection Agency's data found that Americans use approximately 800 million gallons of gasoline annually to fuel lawn equipment such as mowers, leaf blowers and hedge trimmers. In addition, each year, an estimated 17 million gallons of lawn care gasoline spills into the ground, releasing contaminated gasses into the atmosphere.  
And according to research conducted by ecologist F. Herbert Bormann, the total area of lawns in the U.S. is more than the area used to grow crops like barley, cotton and rice.
Yet even with these statistics, many Americans —  in New Jersey-ians in particular – can't imagine abandoning their traditional lawn. After all, a wide carpet of even, money-colored grass is synonymous with the suburban life that many have worked hard to achieve.
"I still can't stop mowing or watering," said Gianna Rongione, an Absecon local. "Seeing my lawn cut and not overgrown brings me inner peace."
Others just don't know much about options to a traditional lawn or how much it will cost.
"I'd consider sustainable options, but it would be an expense I can't spare," said Summer Brennan, a Galloway resident. "When it comes to climate change and how my lawn may impact it, I think my education and awareness isn't what it should be."
Providing education, tools and training about eco-friendly lawn and gardening is one of the goals of the non-profit Sustainable Jersey, which has local groups called "Green Teams."
Alex Perri, co-chairperson of the Absecon Green Team, said that many people are surprised when they learn about the environmental – and financial benefits – of eco-friendly lawn options.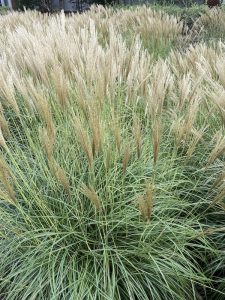 "If people transitioned their properties away from traditional lawns and landscapes and converted them into productive, native plant landscapes, they'd find that not only are these areas more ecologically beneficial, but they also come with less maintenance and a better aesthetic," said Perri.
Another challenge many residents face is that their towns and local communities often have strict regulations that dictate how lawns must look and be maintained.
But there are movements to help residents pass environmentally-friendly landscape ordinances. And the state government is looking to help reduce the issues of traditional lawn care, like passing a law establishing statewide fertilizer standards to help protect local waterways from pollution caused by lawn chemicals and urging residents to explore alternatives to watering and mowing.
In Ocean County, a coalition of government agencies, scientits, non-profits, and citizens created the online resource Jersey-Friendly Yards, which offers a certification program, an interactive yard planning tool, and a database of native and non-native plants that grow well in the area.
Another helpful resource can be eco-landscapers who can help customers understand how to reimagine their lawns.
"Customers that want alternatives to grass are usually looking to have it replaced with a more low-maintenance solution, like pavers, stone or concrete pads, and installing decks," said Jimmy Price, a self-employed landscaper in the Atlantic County area. "But for eco-friendliness, replacing traditional grass with a landscape setting including shrubbery and flowerbeds is best, especially for pollinators."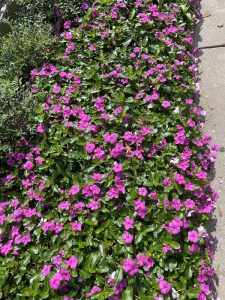 Growing flower beds and other native species of plants like black-eyed Susan's, milkweed, and mint welcome back butterflies, bees and other pollinators and require minimal watering or mowing.
"I've learned more about the benefits to our pollinators," said Lee Portnoy, a homeowner in Egg Harbor Township. "Now I have a large shade garden where we've planted varieties. I've also started a native plant flower garden for the same reasons and to allow clover and dandelions to grow without using weed killers."
"Increasing awareness about sustainable practices and making them convenient for people will be important going forward," said Perri. 
Learn More about Eco-Friendly Lawns and Gardening