Two controversial utility projects that would result in the removal of several hundred trees in Cherry Hill are moving forward, with plans of replanting much of what they are cutting down. 
The two proposals involve removing 591 trees for an electrical substation by PSEG and the removal of another 316 trees by the New Jersey Department of Transportation. 
PSEG has now been approved nearly two months after its proposal to remove the 591 trees on the wooded Evesham Road property of Congregation M'kor Shalom synagogue. 
According to an article posted on 70and73.com, PSEG intends to clear about three of the 11 acres purchased from the congregation to build an electrical substation. The utility complied with a deed restriction on the other eight acres of the property, which preserves the land from future development. Within these protected areas are three heavily wooded acres of uplands with old-growth trees, and several acres of environmentally sensitive wetlands.
Simultaneously, the NJ DOT has plans to displace approximately 316 mature trees between Route 70 and Route 38. As compensation, Steve Shapiro, spokesperson for the NJ DOT, says the DOT has agreed to plant evergreens, native deciduous trees, and deciduous shrubs. He said 236 trees are being replanted around the basins and along the street for trees removed during sidewalk construction. Nearly 900 deciduous shrubs also are being planted in the medians to replace those being removed due to utility construction.
"The NJ No Net Loss Reforestation Compensatory Reforestation Act requires replacing trees if a project removes more than one acre of forest canopy," Shapiro explained in an email.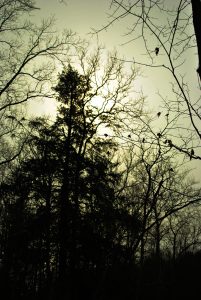 "This project is estimated to remove 1.55 acres of forest canopy," said Shapiro. "Since only 1.16 acres or 236 trees are to be replanted within the project limits, the remaining mitigation was done through monetary compensation to the Shade Tree License Plate Fund in the amount of $24,000, which would be available to Cherry Hill for tree planting within the community."
PSE&G initially planned to replant 44 trees in relation to its project but has now agreed to plant 100 after meeting with Township officials, according to 70and73.com. The utility will also pay a Township tree fund $300 for each of the 491 removed trees, totaling $147,300. The money will be used to plant trees elsewhere in Cherry Hill, according to the website. 
Deforestation is a cause of the climate crisis, and Cherry Hill is overwhelmed with community development projects that continue to worsen the matter. More and more of the Township's trees are falling victim to the ambitions of suburbanization.
"Cherry Hill has been around a long time," says Dawn Higgins, representative of the Cherry Hill Civic Association. "We have a lot of beautiful mature trees. Between the new movement for solar, which I have nothing against, and the development being done, we are losing trees that are decades old. It's just sad. I just hate to see it happen."
The advancement of development such as new utility lines, housing complexes, and other facilities exacerbate deforestation, which, as the Pachamama Alliance expresses, contributes to a host of issues such as climate change, flooding, habitat loss, soil erosion, loss of crops, desertification, and an increase in greenhouse gas emissions. All of these effects continue to devastate the quality of life of Black, Indigenous, people of color around the globe who are most affected by environmental issues.
"Personally, I hate to lose a mature tree," Higgins expressed. "Replacing a hundred-year-old tree with a sapling is not adequate, but given the alternative of not replacing it at all, I would certainly be open to replacing it with a sapling."
"I would like to take a very hard stance about taking care of trees at all, and, if in fact, it has to be done, if there are no other options, then I think planting a tree when you take a tree down is the answer," she added.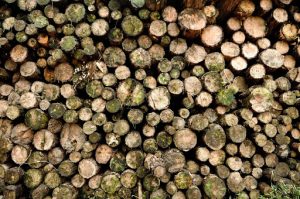 The article in 70and73.com mentions that the Cherry Hill Township Council is in the process of envisioning further regulation on trees removed for development. This now includes a permit requirement for property owners looking to remove larger trees in greater amounts.
The Township website states, "Cherry Hill Township requires a permit to remove any tree that is 15″ in circumference. Residents are permitted to remove up to 3 live trees within a 12-month period." Those wishing to remove more than three live trees require approval from the zoning board.
The Township Council is also preparing a tree ordinance that, according to officials, could become the "harshest" tree replacement law in the state. A draft copy is not currently available, but a compensatory tree fund will likely be part of the new law.
Strategies like tree planting are not immediate. It can take up to 20 years for a newly planted one to capture the amount of CO2 that carbon offsetting promises, according to Greenpeace. When trees and plants die, most of the carbon trapped in their trunks, branches, and leaves returns to the atmosphere. Planted trees that die prematurely as a result of being planted incorrectly, poorly maintained, or eliminated by natural disasters will only aggravate the problem they were meant to address.
These utility projects highlight growing tensions between development needs and environmental concerns that exacerbate the climate crisis. 
PSEG's substation is estimated to cost $39 million with intentions to relieve a "significant overload" at an existing substation in Marlton, according to PSE&G's application as well as "improve local electric reliability and prevent possible supply interruption." The Marlton substation serves about 22,000 residents, concentrated in Cherry Hill and Evesham.
NJDOT's developments are projected to cost $151 million. The cost for clearing the site is $55,000. The goal of this project is to "improve traffic signals at 27 intersections," according to Shapiro, and "replace or install four Dynamic Message Signs, improve drainage, sidewalks, and resurface approximately 9 miles of Route 70 between Route 38 in Cherry Hill and Cooper Avenue in Evesham."
"Some trees [are] being removed because of a combination of conflicts with construction and the declining health of some of the trees," said Shapiro. "Ash trees were removed because they are prone to parasite infestation and are likely to fall down, posing a danger to the traveling public. These trees are in the basin at Route 70 eastbound and Route 38 eastbound, and the basin at Route 70 eastbound to Cuthbert Boulevard southbound. 
"The trees being removed are all on NJDOT property," he added. "Most of the trees are in drainage basins and nearly every tree being removed will be replaced with a new one […] Tree removal in the basin areas has been completed. Tree removal along the main line has not been scheduled yet."