Earth Day on April 22 has been a worldwide celebration of students and people all over the world for decades. From picking up trash on the playground to planting trees, schools across the globe have been holding special events to help educate students on the importance of Earth Day.
Rowan University is no different. Since the celebration of the traditional Hollybash has fallen on April 22, Rowan University has held its Earth Day celebration on April 21. Within this year's celebration, several events were organized, from open-mic performances to student-led activities. The event was hosted by the School of Earth and Environment and held in the new addition "Time Sweeps," which is right beside Discovery Hall on Rowan University's Glassboro campus.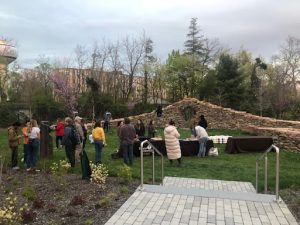 HISTORY OF EARTH DAY
Earth Day has only been recently added to the worldwide calendar. However, the origins of the holiday started within America. This was because Americans during the industrial revolution had produced a significant amount of pollution due to the significant use of coal to power factories, transportation, and home fireplaces. History.com's water and air pollution article describes the impact of these pollutants as "the release of human-produced sulfur and nitrogen compounds into the atmosphere negatively impacted plants, fish, soil, forests and some building materials." These pollutants only grew as technology and production increased, as did the harmful effects. 
It was when Rachel Carson's book, Silent Spring, hit the shelves in 1962 that awareness was raised about environmental issues, including the relationship between pollution and the health of the public. Sen. Gaylord Nelson (D-WI) is the founder and father of Earth Day. Nelson, of Wisconsin, had always been concerned with environmental issues and got a young activist, Denis Hayes, to help organize teach-ins. Teach-ins are a series of uninterrupted lectures and speeches by faculty and guest speakers about a certain topic. They ended up choosing April 22 for the event because it was "a weekday falling between Spring Break and Final Exams, to maximize the greatest student participation." 
From there, the message spread about the movement to all of the U.S. Soon, the movement caught international attention and, in 1990, many other countries worldwide to follow in America's footsteps. 
WHAT HAPPENS ON EARTH DAY
All different events occur on Earth Day. From the classroom of planting trees or picking up litter, or volunteer work of beach clean ups and street protests to bring awareness to climate change. There is no right or wrong way to celebrate Earth Day. Educating others and bringing awareness is one of the most important factors that Earth Day encourages.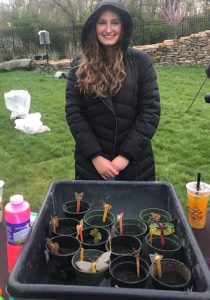 Rowan University had taken its own initiative to educate the students and others on Rowan's campus. It is a collaborative effort between the School of Earth & Environment, the Public Art & Social Practice Studio class, and students of Rowan Environmental Action League (REAL).
Jennifer Totora is the program assistant for the Dean's office of the School of Earth and Environment. Totora explained that the messages she hopes to convey are:
"One is to provide a platform for students to share their thoughts and feelings about the climate and biodiversity crisis.  Often they are hearing about it from all angles, but might not have the opportunity to speak about it themselves – we are providing an open mic and metaphorical soapbox to say whatever they like however they like if they choose."

"The second part of that is – don't try to work alone. Chances are someone else has already started, so join with another group that is already doing the work you're interested in.  Don't give up, we're all working on this together."
These are messages that represent what Earth Day was built upon: working together and providing a space to speak up about these concerns. Luckily, the students of Rowan took charge in providing a comfortable space in speaking about the biodiversity and herbicide crisis, as well as providing safe solutions. 
Rowan students of the Public Art and Social Practice Studio class provided several ways to get people to interact with the activities and projects they had stationed. Rowan student Cara Piergiovanni was the first to happily explain what project she was working on. Piergiovanni was handing out small planters with common milkweed seeds.
"You can take these and take care of them until they're ready to be planted into the ground," she said. "The goal is to try and get more native plants like these, and to work towards a herbicide free campus."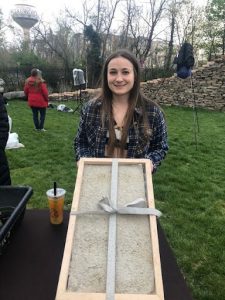 Piergiovanni also had said that the milkweed plants are made to attract pollinators. Butterflies, more specifically, monarch butterflies, are attracted to these types of plants, she said. 
Similarly, student Jess Pszeniczny showed her paper and seed-based fan prototype. This fan was made by Pszeniczny and had paper and native seeds mixed within. 
Spreading native seeds and redirecting from herbicides was a common message that these students were sharing on this Earth Day. There was another activity of an Earth-shaped piñata. Instead of candy, wrappers, string and plastic, inside were native plant seeds. 
According to the U.S. Environmental Protection Agency (EPA), herbicides are used to control and/or manipulate unwanted vegetation, and are used from lawns to parks to even bodies of water. Pesticides are "any substance or mixture of substances intended for preventing, destroying, repelling, or mitigating any pest or mixture of substances intended for use as a plant regulator, defoliant, or desiccant," according to the US EPA.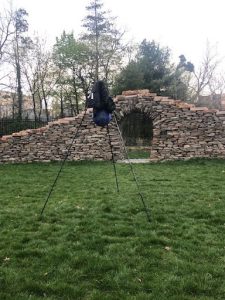 And these toxins have damaging effects both on plant life and people. According to Californians for Pesticide Reform (CPR), harmful chemicals like herbicides and pesticides cause "irritation of the nose, throat, and skin causing burning, stinging and itching as well as rashes and blisters."
So it is no surprise that there are so many concerns and worries about these chemicals. With issues like these, it is easy to watch from the sidelines. However, anyone can contribute and help. Totoro said that it is easy to make a difference.
"The truth is that it is too big for any one person to fix," she said. "The best thing you can do?  Do something. Find what you're interested in, find what you're good at, and use your unique skills and interests to do something.  That's how you will make a difference."