Hidden behind a shopping center in Mantua Township lies a key to the prehistoric, an unfamiliar world ruled by dinosaurs that abruptly ended 65 million years ago. 
The seemingly ordinary marl quarry located behind the Lowe's Home Improvement on 611 Woodbury Glassboro Road in Mantua has been an area used for mining and research since 1926. According to Drexel University, the quarry, initially owned by Inversand Company, was a fossil dig for generations of scientists since mining operations, which extracted a mineral called glauconite, and paleontological research began there. The true paleontological significance of the area remained ambiguous for decades. 
This paradigm changed when paleontologist and geologist Dr. Kenneth Lacovara saw potential in the site. In 2011, after years of digging and discovering old marine and terrestrial fossils at the quarry with students and colleagues, Lacovara urged Mantua Township to preserve the site and prevent commercial development from ruining its scientific value.
"I thought it would be a shame to lose this resource," Lacovara said.
Rowan University purchased the area for preservation as a fossil park in 2015. A year later, alumni Jean and Ric Edelman donated $25 million dollars to fully develop the 65-acre park into a leading destination for scientific discovery and research.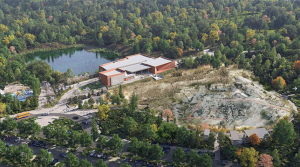 Lacovara, now the Founding Dean of Rowan's School of Earth and Environment, provides leadership as a researcher and director of the park. Lacovara is a world-renowned educator and paleontologist. He discovered the remains of a dinosaur in Patagonia estimated to weigh 65 tons and named Dreadnoughtus, presented a TED Talk on the impact of dinosaurs on our universe, and published a book called "Why Dinosaurs Matter."
Lacovara also is helping to develop a museum within the park, which broke ground in October of 2021 and is expected to open in May of 2023. Construction is currently ongoing of the $73 million, 44,000 square-foot net-zero energy museum that will stand as New Jersey's largest public net-zero building. Award-winning architects like New York City-based Ennead, Princeton-based KSS, Boulder-based SEED Design/Yaki Miodovnik, and Wilmington-based Gallagher & Associates all have a hand in the project.
"We want to show people that we can do it and so can you," Lacovara said. "There's no reason why every building that is built hereout couldn't be built to achieve carbon net-zero." 
Net-zero emissions refers to the overall balance of greenhouse gas emissions produced and taken out of the atmosphere. In the museum's case, no fossil fuels will be burned. Thus, no greenhouse gasses will be released into the atmosphere. The building is designed so that 100% of the energy will flow from renewable on-site resources and green energy through New Jersey's power grid.
The museum will overlook the marl quarry and provide a stunning view of the area containing 65-million-year-old fossils. Additionally, it will feature various halls, displays, and galleries transporting visitors to the time of the dinosaurs.
"We're really using the history of the dinosaurs, including their extinction, as a cautionary tale for us humans," Lacovara explained. "We should look to the dinosaurs as an example that the Earth didn't need dinosaurs and it doesn't need humans. But, we need the Earth."
Assistant Professor of Geology at Rowan and colleague of Lacovara, Dr. Kristyn K. Voegele, said, "What the museum is doing is really unique. It is making these very specific exhibits to the time and place where the museum is located. We're hoping that this can transport visitors back in time and really see what the Earth was like, how it has changed, and think about how the Earth is currently changing." 
The Jean & Ric Edelman Fossil Park Museum's goal for net-zero emissions comes from a rigorous international sustainable building certification program called the Living Building Challenge. According to the International Living Future Institute, The Living Building Challenge defines the most advanced measure of sustainability in the built environment possible today and acts to diminish the gap between current limits and ideal solutions.
The Institute states that the Living Building Challenge is organized into seven performance areas called Petals. Each petal is subdivided into Imperatives, which address specific issues through precise guidelines. Designers of the Jean and Ric Edelman Fossil Park Museum are working to achieve the Energy Petal which signifies that a project meets the criteria for net-zero energy and net-zero carbon.
According to The Living Building Challenge Standard, "The intent of the Energy Petal is to signal a new age of design, wherein the built environment relies solely on renewable forms of energy and operates year round in a pollution-free manner."
To achieve net-zero energy use, the museum will operate with geothermal, water-source heating and cooling systems, as well as a photovoltaic solar field (photo meaning "light" and volt meaning "roll" or "turn around") which converts light into electricity using semiconducting materials.
Thomas Wong, a design partner working for Ennead Architects, one of the firms working on the project, covered what made the project fully net-zero.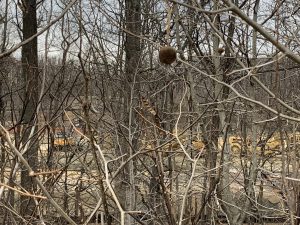 "It has no fossil fuels burned on sight, it's an all-electric, mechanical system. In other words, we heat and cool through electricity, not propane, oil, or natural gas," said Wong. "There's a grant that's going on right now to provide an array of photovoltaics on site, so that all the energy we use, 105% of that will be produced by these on-site photovoltaics. That's what makes the project net-zero. I bet you a lot of people from all over the country, even, in fact, all over the world, are going to come here."
Along with explaining the infrastructure of the museum, Wong hinted at one of the spaces in the museum, the Hall of Extinction and Hope, and its profound message. 
"In that gallery, there's real evidence about global warming, climate change, carbon emissions, and the crisis of the environment,' he said. "There's also a real call to action in allowing people to have hope about how each and every one of us individually and collectively can make a difference and offer as much as we can to prevent this and reduce carbon emissions."
Understanding the fifth mass extinction and prehistoric world is fundamental to understanding our current climate crisis and potential sixth mass extinction. Through the park and museum, "Visitors are going to see how precarious our situation is today but also that all the solutions are out there right now," Lacovara added. "All we have to do is grab them to build a better and cleaner world that we all want for ourselves and our progeny."