By Chris Friend
Wildfires have shaped forest ecosystems for thousands of years. They have the potential to create new and open lands by removing low-growing underbrush, clearing the forest of debris, opening it up to sunlight, and providing nutrients to the soil. 
Yet, wildfires also can result in the destruction of life and property. During the 2020 wildfire season in California, 33 lives were lost, more than 10,000 structures were damaged or destroyed, and more than 4 million acres burned, according to the California Department of Forestry and Fire Protection.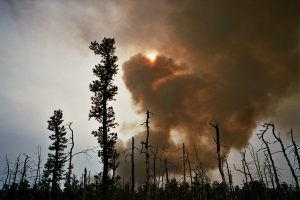 With the evolving threat of climate change, the threat of wildfires grows alongside it. Climate change is a key factor in the risk of wildfires in the United States, according to the Center for Climate and Energy Solutions (C2ES), Wildfires depend on a few factors including temperature, soil moisture, number of trees and shrubs, and other potential fuel. Climate change creates warmer, drier conditions, increases drought, and extends the fire season. 
These conditions can have many effects on our natural environments, federal budgets, and public health and safety. The threat becomes an even more prominent reality when it's closer to home. The New Jersey Pinelands is one of these affected areas. 
"Wildfires within the Pine Barrens region can occur, simply stated, whenever the forest is dry enough to burn," said Shawn Judy, the Division Forest Fire Warden of the NJ Forest Fire Service.
This means that wildfires in the Pine Barrens, which is the colloquial term used by locals to describe the area, can occur 12 months out of the year when conditions permit. In May of this year, two fires in the Pinelands consumed more than 1,000 acres of land. 
"We are well into our fall fire season," Judy said. "So, yes there exists a threat of wildfires in the Pine Barrens."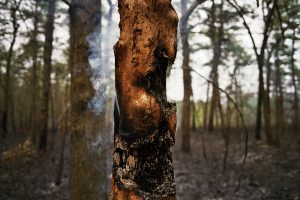 With new drying patterns and low humidity, exhaustive dry conditions are created which puts the entire state in fire danger. The Forest Fire Service has experienced longer growing seasons and shorter dormant seasons, as well as above average precipitation or longer periods of dry weather, according to the Judy. This has presented several challenges for the service when combating wildfires and mitigation treatments.
Jimmy Brunkner, a Rowan University student who works in Wharton State Forest, said he also sees the potential for more wildfires occurring throughout the state.
"Anecdotally, I've noticed more large fires occurring with increasingly dry conditions," Brunkner said.
These climate-related changes have inexorably stacked the odds in favor of more intense and bigger fires. If there is more time for plants to grow within the forests, and less time in the winter when they are inactive, it means that there is more material to burn. Dry weather will absorb moisture and within only a few short days the Pine Barrens become susceptible to fire.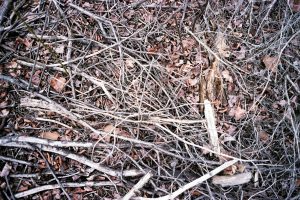 Occupying 22% of New Jersey's land area, containing 1.1 million acres, and spanning seven counties and 56 municipalities, the Pinelands National reserve is a rich ecosystem in the heart of our state. With the passage of the National Parks and Recreation Act of 1978, the Pinelands National Reserve was created. The area is home to dozens of rare plant and animal species that have been sworn to be preserved, protected, and enhanced by the state of New Jersey and the federal government. 
Wildfires have been common in this ecosystem for some time. The plants that are found here evolved to survive the area's highly acidic, nutrient poor, and fire-prone conditions. Fire suppression and climate variability can change the scale and frequency of this issue. 
March 15 has always been the start of Spring Fire Season and it runs to about May 15. The fire season occurs after the months in which vegetation and trees have not yet fully grown new leaves, that would retain water and slow fires. Alongside this, there is little shade which tends to dry out the forest floor.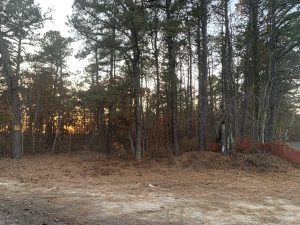 The challenge becomes protecting New Jersey residents from dangerous wildfires, which can be done through the use of prescribed burns. 
"One of the most effective tools we use is prescribed burning," Judy stated. 
The Prescribed Burn law signed by Gov. Phil Murphy allows for the use of prescribed burns for not only ecological goals but also fire safety, offering greater protection to private landowners. 
Conducting these burns in strategic locations can reduce the fuel load that exists in many locations. The NJ Forest Fire Service strives to accomplish 20,000 acres of hazardous fuels reduction through prescribed burning annually. 
As New Jersey is the most densely populated state in the nation, it is important that properties within or around the Pine Barrens region are prepared for wildfires. The New Jersey Forest Fire Service actively engages landowners on ways that they can protect their property from the threat of wildfire through several outreach programs.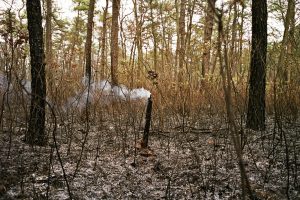 "I know that the Forest Fire Services tells homeowners to have 100 feet of defensible space around their structures to prevent damage from forest fires," Brunkner explained. "The Forest Fire Service will also issue fire bans that restrict campfires and grilling to various extents." 
Prescribed  burns usually take place during cooler, winter months, such as February and early March. The hope is that they provide a better management tool and improve the Pinelands forests while also preventing worse effects.
However, the Pine Barrens is also a fire dependent ecosystem, meaning several of the life cycles of rare species within the region are dependent on fire burning across the landscape for their own existence. These species have adapted to frequent and fast moving fires, by developing serotinous cones that are glued shut. This is meant to protect the seeds through a fire. The fire will sweep through the area, melting the resin, and then seeds that are released are then distributed by wind and gravity.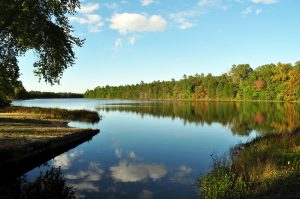 According to the National Forest Foundation, in addition to these serotinous cones, seeds of many plants in fire-prone environments need fire, directly or indirectly, to germinate as well.Judy highlighted that it is important to remember that wildfires in this area occur both naturally and from anthropogenic causes. According to National Geographic, Cal Fire, California's fire protection service, has said publicly that it no longer considers there to be a wildfire "season," because the season is now the entire year. As climate change progresses, however, a naturally occurring fire can spell disaster for everyone involved.