Updated June, 2, 2023 
Spring is peak wildfire season in New Jersey.  A combination of low humidity, longer days and windy conditions mean fires can start and spread more easily.
This year has already been a particularly active fire season in the Garden State, with more 500 fires by the end of May and a 5,000 acre blaze in Bass River State Forest in early June.
Climate change is also making the fire season longer and more unpredictable, according to officials.
"The continuing impacts of climate change mean our state is experiencing more severe weather conditions, storms, wind and drought that can result in a longer wildfire season," said Environmental Protection Commissioner Shawn M. LaTourette in a statement.
The main fire season that traditionally lasts two-to-three months is now extending to four-to-five months, according to Greg McLaughlin, Administrator and Chief of the New Jersey Forest Fire Service.
This trend looks like it will continue as New Jersey's weather patterns continue to change.
The 10 warmest years have all come after 1990. This year, January and February marked the mildest two months of the winter season on record. May was one of the driest on record in New Jersey.
These warmer and drier conditions mean more fuel for fires.
WILDFIRE UPDATE: Allen Road Wildfire – Bass River State Forest

NEW ROAD CLOSURE: GARDEN STATE PARKWAY
⚠️ Garden State Parkway is closed between Exit 63 and Exit 38 in both directions. pic.twitter.com/IbIBWezKKW

— New Jersey Forest Fire Service (@njdepforestfire) June 2, 2023
"When there is more dry fire fuel, the fire spreads faster and is harder to put out," said Dr. Elisha Moore, an Assistant Professor in the Environmental Science Department at Rowan University.
To prepare for this year's fire season, the New Jersey Forest Fire Service has performed prescribed burning of tens of thousands of acres to remove undergrowth from the forest floors.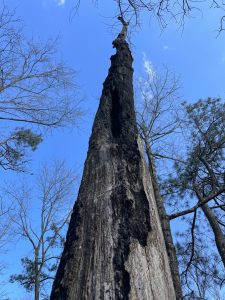 They also have their full firefighting force on alert, with about 50 fire-trucks out on a patrol.
"We have our staff on a level one patrol. So not only is our full-time staff out in their fire trucks patrolling, but we have part-time staff out there with their trucks as well, said Bill Donnely, the Assistant State Fire Warden for the New Jersey Forest Fire Service. "We also have our fire tower staff where there are folks sitting in the fire towers who are keeping an eye on the sky looking for smoke to start coming up so that resources can be dispatched to that area quickly."
However, the best way to prevent wildfires, officials say, is to educate the public about fire safety.
Humans are the cause of 99% of fires in New Jersey. A study by the National Park Service found that most fires are started by "campfires left unattended, the burning of debris, equipment use, and malfunctions, negligently discarded cigarettes, and intentional acts of arson."
Officials say that it is also important for residents to follow current campfire restrictions, refrain from agricultural burning, and learn how to landscape the areas around their home to reduce the risk.
"Everyone can do their part to help the Forest Fire Service protect life, property and natural resources," said John Cecil, Assistant Commissioner for State Parks, Forests & Historic Sites.