By Christina Friend
Not too long ago, electric vehicles (EV) felt like a thing of the future. Along with flyable and self-driving cars, people believed that they would never see those things within their lifetime. But now, more than 20 years later, EVs are thriving on the market and are slowly changing the face of the climate crisis.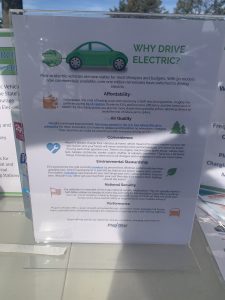 Climate change is progressing right before our very eyes. With the most recent hurricane, Hurricane Ida, and the aftermath of devastating tornadoes and flooding in New Jersey, it is now more clear than ever before that the world is changing and steps are needed to change along with it. Reducing greenhouse gas emissions (GHG) is a critical strategy to alleviate some of the worst climate change effects.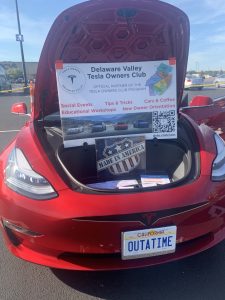 "​Greenhouse gas (GHG) emissions from transportation account for about 29 percent of total U.S. greenhouse gas emissions, making it the largest contributor of U.S. GHG emissions," according to the U.S. Environmental Protection Agency. "Between 1990 and 2019, GHG emissions in the transportation sector increased more in absolute terms than any other sector."
According to the EPA, a typical passenger car emits about 4.6 metric tons of carbon dioxide per year. This number can vary depending on the vehicle's fuel, the fuel economy, and the number of miles driven per year. With all these facts, many believe that carbon-burning cars must be the way of the past.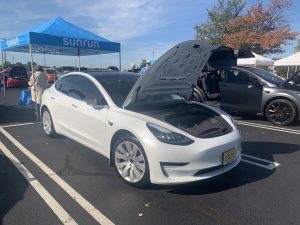 In honor of National Drive Electric Week, the Tri-County Sustainability Alliance and its partners at the Deptford Mall held a Drive Electric event on Oct. 2. This event had 33 EVs registered and 16 different models showcased. The event was held in the parking lot of the mall, with cars next to their Tesla Superchargers and their newly installed Electrify America charging stations.
Associated partners at the event showcased various sustainable products and programs such as Pedego electric bikes, Neighborhood Sun, and Sun Run solar provider. Associates with the Sierra Club, Camden County Sustainability, and Runnemede Borough were also in attendance. 
Runnemede Borough brought their first 100% EV, along with two hybrid police cars. Councilman John Ranieri explained to me the importance of EVs on the market as well as people's reservations when buying electric. 
"Everybody will be looking for the next car, the cycle being every 3 to 7 years," Ranieri said. "If we don't get the word out soon, we miss a large part of that cycle by people buying combustion vehicles.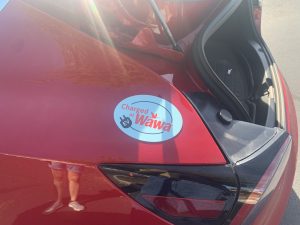 "People don't think it's time, the vehicles aren't high-tech, there aren't enough charging stations out there, but there are, and it's time," he said. 
The event seemed to make that clear, washing away the woes of many local residents. People took the opportunity to speak with EV owners, ask them about the mileage on their vehicles, the cost of repairs, as well charge time. 
Runnemede resident Donna Kinnard said, "I have my reservations. I live in a lower-middle-class town and I feel like an electric vehicle would be too expensive. I wanted to come to this event to see the car and see what I could do to get my hands on one as well."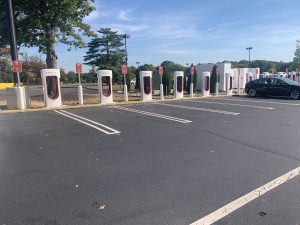 New Jersey, however, offers an EV incentive. The Charge Up New Jersey program promotes clean vehicle adoption by offering incentives of up to $5,000 for the purchase or lease of new battery-electric and plug-in hybrid electric vehicles. This incentive can be taken advantage of directly at the dealership and applied instantly to the purchase or lease at the point of sale. 
These incentives can make it easier on residents like Kinnard who want an EV, but are concerned about the price. In the long run, an EV even saves the owner money as well. Runnemede Councilwoman Eleanor Kelly explained the savings the borough has seen in terms of fueling. 
"We maybe get gas in the hybrid every two weeks, if that," she said. "When you're patrolling, you're using gas all the time, so we are seeing great savings on gas." 
While we may not have flying cars, electric vehicles are here to stay. The same is true of climate change. Will electric cars be a tool for change in our future or another passing trend?