By Alexandria Brooks | March 2, 2020
The bird population in North America has decreased by 2.9 billion since 1970, according to a study by the Cornell Lab of Ornithology.
On March 7, 2020, Stockton University will host the panel discussion Gone Missing: 3 Billion Birds to explore what this means for New Jersey and how residents can respond.
We reached out to Dr. Adriaan Dokter of the Cornell Lab of Ornithology who will speak at the panel.
Q: It is difficult for people to comprehend what it means that nearly 3 billion birds have been lost since 1970. Can you help put this in context?
Dokter: It's a really big number so it's sometimes hard to wrap your head around. It's about one in four birds, so that's a good rule of thumb. It's a huge amount of course. It's only since 1970. So it's a relatively short period of time…. It's maybe not so easy to detect yourself, but it's still a staggering number.
Q: What does this mean for the rest of the ecosystem in North America?
Dokter: The decline in birds that we're seeing now is not something that stands by itself. And there have been a lot of animal groups and plant groups all over the world who are seeing the loss of biodiversity in the natural world. There's maybe one exception and that would be water birds which seem to show a little bit of increase. 
But that's not to say that everything is in a decline. It's a very complex story, so there are "losers" and there are "winners." And I think what's new about our study is that we tried to add all of the traceability together and see what it means in terms of the total number of birds. 
Q: On a more local level, what does the declining bird population mean or how does it affect New Jersey's ecosystem?
Dokter: It's mostly driven by a common species. So that's an important message in our paper too, which is that the decline in birds is not by all means a rare species. And actually if the common species decline by three percent it represents many more birds. 
These common species [lost] are also very common in New Jersey, such as black birds along with exotic species like house sparrows. It's really something that's not unique to New Jersey. 
I guess what's unique about New Jersey for example is the wildlife refuge here with the waterbird habitat. In a way you can see that as a good example of how conservation can make a difference and it has been a big success in the wildlife refuges across the U.S. 
Q: Your study states that "Population declines can be reversed, as evidenced by the remarkable recovery of 40 waterfowl populations under adaptive harvest management." How does that process begin and how long would that take to restore or replace the population that was lost?
Dokter: There's so many stories about how biodiversity is going down, and we're losing various species. I guess it serves as a reminder about how certain species respond very well to conservation actions and that birds and animals are very adaptable. Also, that you can make a difference if you improve their conditions. 
So when that will actually happen is another thing. Change is only common if it's important by broad communities and the broader society. People have to find it important. If everyone says "I don't care about the Earth" then of course nothing is going to change very rapidly. I think it's very important to raise awareness for people to organize. 
Q: What do you hope people take away from this report and panel discussion? How can or should we respond?
Dokter: There are simple things that anyone can do. 
We developed our website and came up with some simple actions that people can take in order to help birds. Maybe they're not the solution to everything, but it's a good start. For example, if you have the power to make habitats nicer for birds then it can make a difference. 
We're also working on collisions with buildings which cause a lot of mortality and everyone can make sure that the glass in the windows doesn't harm the birds when they collide into the building. Any big change has to start from small steps and that's something I hope people take away from it. 
Although it's very worrying, there's many things people can do like being a critical consumer, buying agricultural products that are good for birds and not creating a habitat that leads to the destruction of birds.
Register for the March 7 event at Stockton University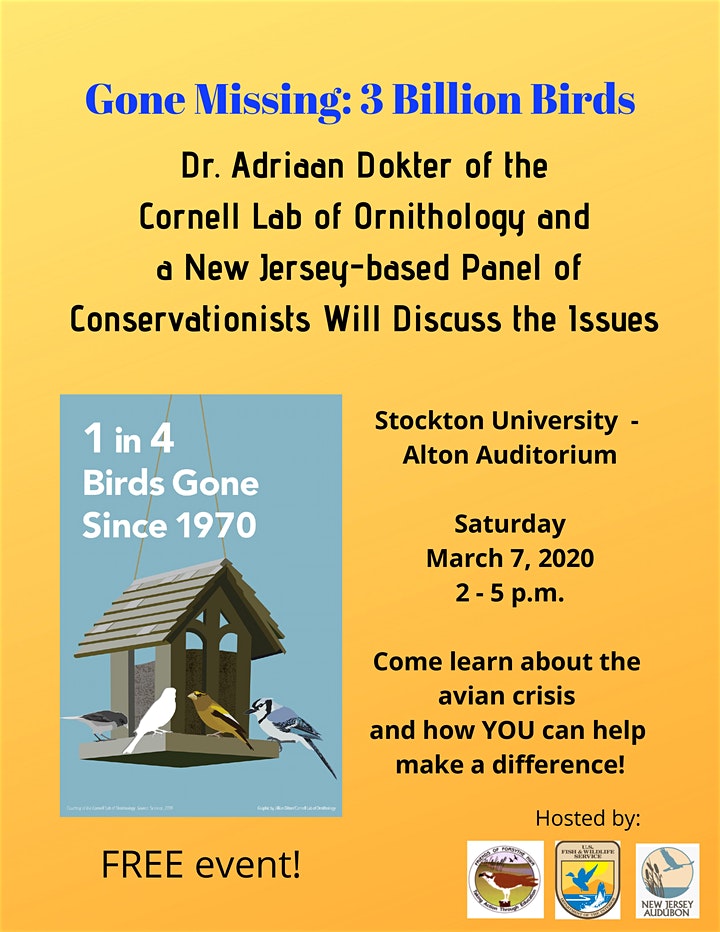 This story is part of our participation in a statewide climate reporting collaboration with members of the NJ College News Commons, a network of campus media outlets working together to cover the climate crisis in New Jersey.