For its 10th anniversary fashion show, the Made Institute transformed Philadelphia's Cherry Street Pier into a runway with beautiful models, music and collections from 18 emerging designers eager to showcase their creativity and passion.
Several of the designers, like Thomas Rowe, who debuted his Chrysalis Clothing line at the event, also featured "sustainable fashion" collections that used upcycled fabric to give old clothing a new life.
"I don't think people really understand the damage that fast fashion does and how much clothing should be valued," said Rowe. "So I incorporate sustainability with my collection by using material that's already readily available."
Fast fashion, which is the process of selling cheap, trendy, low quality clothing in large amounts, is on the rise, and rising with it are harmful social and environmental impacts, like emitting greenhouse gasses, workers being underpaid for their labor, and clothing ending up in landfills after the style goes out of season. 
Fortunately, a new generation of designers and entrepreneurs in the Philadelphia and South Jersey region are finding ways to mitigate fashion waste – and doing it in style.
Produced by Jada Ali. Video and editing by Joseph Pidgeon. On Camera Reporting by Madison Miller
Sustainability starts before the clothing hits the rack
One of the first stops for Rowe and other like-minded creatives looking to create more sustainable clothing is FABScrap, located on the sixth floor of the BOK Building in South Philadelphia.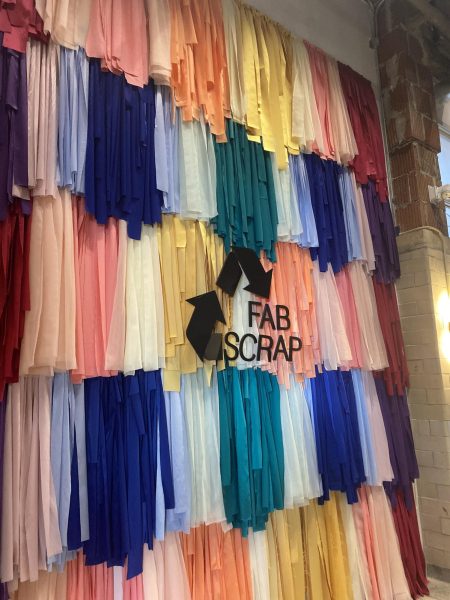 FABScrap is dedicated to reducing the amount of clothing in landfills, by accepting unused fabric and textile donations, and reselling them to designers to make a new product. According to their website, the nonprofit donates hundreds of thousands of pounds in fabric yearly and works with over 750 companies.
Visitors are greeted with colorful drapes, boxes lined to the ceiling with fabric, shredded scraps, and a small thrift store of unused textiles.
The warehouse space is home to two areas buzzing with creators, designers and volunteers. There's the Re-Use Room, where the shopping happens, and the volunteer space, where local sustainability advocates come together to prepare fabric to be recycled rather than thrown away in a landfill. 
"A lot of the people here are really big on keeping the environment healthy, and so a lot of them want to be a part of that mission," said Saida Burns-Moore, FABScrap's Community Lead in Philadelphia. "Even if it's in a way like this, it's like one person can make a difference."
In the Re-Use Room, designers can shop for fabric at a thrift store price. On the other side of the Re-Use room, there are tables lined all over the space, providing people with the opportunity to donate their time by sorting and prepping clothing to either be resold or shredded into "shotty," a material that can be used for commercial insulation in pillows or cushions.
What's happening at the BOK Building is part of a growing global trend.
According to "The State of Fashion 2023: Holding onto growth as global clouds gather," a report published earlier this year by McKinsey, consumers and investors have started to consider the environmental impacts of the fashion industries they are putting money towards.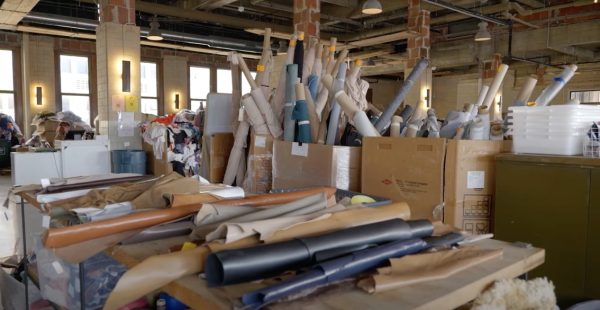 "As the industry continues to grapple with its damaging environmental and social impact," the report states, "consumers, regulators, and other stakeholders may increasingly scrutinize how brands communicate about their sustainability credentials."
Even though consumer awareness is important when looking for new items, what happens to the clothing that never hits the rack?
In 2018 the Environmental Protection Agency (EPA) estimated that approximately 9,000 tons of clothing and footwear waste ended up in a landfill – the equivalent of 76 pounds for every person in the United States.
Creativity blossoms in the FABScrap warehouse as well, with designers finding materials that fits their vision, but sometimes finding inspiration from items they hadn't thought to look at before. 
"A lot of times you go into a fabric store and you have a set idea, a project in mind and what fabric you're going to use, but here you really don't know what you'll find," said Haven DeAngelis, the Reuse Coordinator at FABScrap Philly. "So it definitely opens up a new way of thinking about how to make something."
One man's trash is this woman's custom sweatshirt
Tara Martinak is another local designer keeping sustainability in the forefront of her mind and her South Jersey business, ReUp Fashion.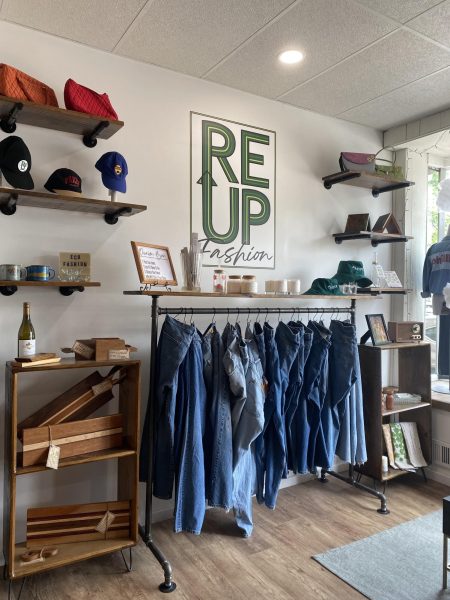 An avid second-hand shopper, Martinak opened her Haddon Township shop in 2021 to express, and make a living from, her passion for upcycling thrifted clothing.
ReUp Fashion sells Martinak's designs, as well as accessories and jewelry from other local sustainable brands.
A graduate of the University of Delaware with a degree in Design, Martinak worked in trend forecasting before the pandemic. But when the world shut down, she lost her job, so she decided to start selling upcycled clothing online, which is where ReUp began.
In recent years, thrifting — which entails shopping for previously loved clothing at second hand stores like Goodwill or vintage and consignment shops — has become a popular way for people to shop sustainably.
However, one of the biggest drawbacks to thrifting can be the limited options or styles that exist within these stores. It can take multiple trips just to find something that fits your style and your size.
With ReUp, Martinak offers customers the opportunity to take advantage of this rising phenomenon while also giving them a custom, handcrafted item that they won't find anywhere else.
"My grandma used to watch me after school, and she was a seamstress, so she taught me how to sew when I was really young," said Martinak. "It was something I always loved, and I've been drawing since before I could talk."
Being a small business owner and sole designer, it can be tricky to maintain supply and demand while also trying to be creative and make clothing that stands out from what shoppers may see online or in the mall.
"It's a balancing act to have things that are a little more funky, because, I mean, if you're gonna spend a little extra money, get something that's more sustainable and one of a kind," Martinak said.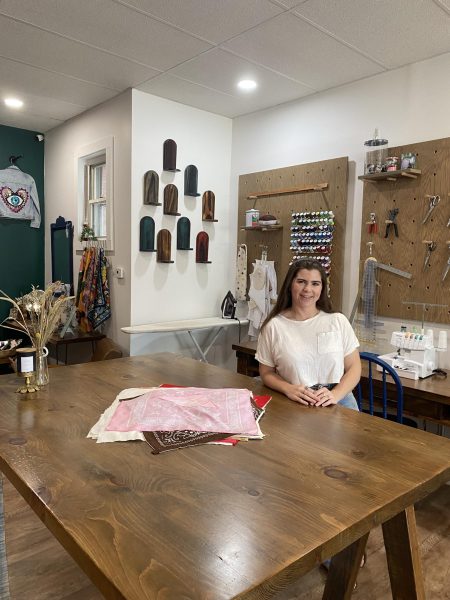 She's selling custom-made, one-of-a-kind clothing to wear to work, brunch or simply around the house.
Being so close to Philadelphia, Martinak even makes custom-made gameday hoodies and apparel for the city's sports fans. All of the material she uses, she gets from second hand stores or places like FABScrap. 
While sustainability and keeping the business eco-friendly is one of the main missions of her business, Martinak also hopes that ReUp customers can find clothing that they love — with the "added bonus" of it being environmentally friendly.
"Some people come in and are, like, 'Oh my god, I love that you're making sustainable clothing,'" said Martinak. "But I feel like more people are, like, 'Oh, my friend got this dope shirt from here, I want to come see what you have."
ReUp Fashion joins a growing list of notable sustainable clothing brands across the river in Philadelphia.
For example, Steel Pony, located in the Fashion District, has been making clothing from eco-friendly materials for more than two decades. Grant Blvd, a black- and women-owned shop in West Philadelphia, features stylish clothing made with recycled and ethically-sourced materials. And Lobo Mau, named Philadelphia Magazine's best sustainable local brand in 2019, features zero-waste designs at its Queen's Village location.
"The fashion industry is one of the most polluting industries in our world, and we all wear clothes, so personally I think we have to care about this waste as much as we care about recycling plastic or metals," said DeAngelis.
Fashion that's fair
Not far from Martinak's ReUP is another South Jersey shop that's hyper-focused on the environmental impacts of fashion — and consumerism in general. 
My Fair Trade Lady is a fair trade shop in Haddon Heights that carries new clothing, art and decor from all over the world. Each business they work with is verified fair trade, meaning that every item they carry is sustainably and ethically sourced.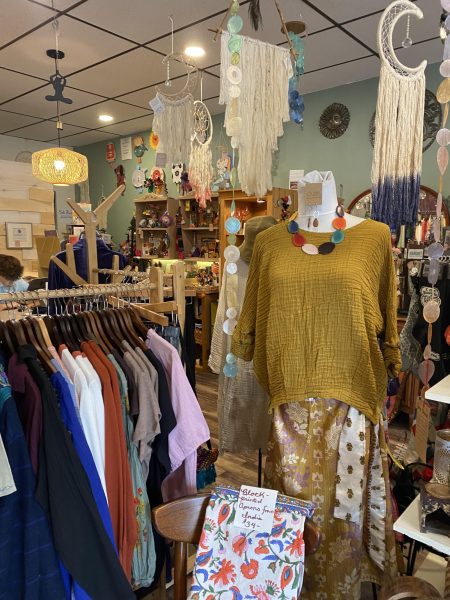 While second hand shopping is a great way to be sustainable, customers don't always know where the original piece is coming from. Fair Trade stores like My Fair Trade Lady allow customers to be confident that their purchases have been vetted for environmental impact. 
"I have been exploring and trying out other sustainable fashion brands, but not just fashion," said Julia Mooney, owner of My Fair Trade Lady. "Because the whole philosophy of fair trade is that you are being responsible and eco friendly — so everything in the shop kind of keeps that in mind."
Vendors that have stock in fair trade stores have to make sure that they are "verified" by organizations like the Fair Trade Federation or Fairtrade America that ensure that the materials have low-impact and that workers are being paid a living wage.
An artist and former art teacher, Mooney bought the store from founder Donna Gottardi in October of 2022.
Before she became the owner of My Fair Trade Lady, she was an art teacher and advocate for sustainable fashion. She even wore the same dress for 100 days to get her students to think about the environmental impact of their clothing choices. 
Even though she loved teaching, being her own boss and getting to run the store her way has been an exciting journey. She gets to do something she loves while also ensuring that her values can be a part of her business. 
"If you're doing something where you're putting all of your energy into… then why wouldn't you be doing it ethically and responsibly, with all of your values at the forefront of your mind," said Mooney.
Sustainability weaves its way onto the runway
At the Made Institute's fashion show on the Cherry Street Pier, Thomas Rowe said he hopes "buy less and wear more" is the phrase people will think of and embrace when the models wearing his clothing hit the runway.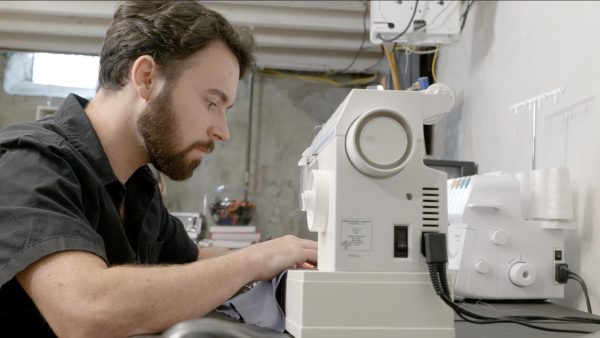 A Cape May Court House native, Rowe began designing in 2015. His love for fashion led him to the fashion design school Made Institute, when he got a sewing machine for his 19th birthday. After signing up for Made Institute's drawing class, he discovered their designer development program, which he graduated from in 2022. 
That same year, some of his designs for his first collection, Aeternum Clothing made an appearance during 2022 Philly Fashion Week in late September. Aeternum Clothing's point of difference is its construction. Some styles consist of several pieces that have removable and interchangeable pieces to them, so that the owner is able to swap out colors and styles as they choose. 
Velcro strips, zippers and buttons all allow someone to change the sleeves, legs and pouches of their jacket, pants, or shirts as little or as often as they want, constantly giving the item an opportunity to have a new look and lifespan. 
This is different from Chrysalis, which is sustainable because of the materials that Rowe designs the items with. Each item from this brand is made with fabric that comes from thrift stores, or textiles that are recycled from FABScrap. 
The idea for Aeternum, his first sustainable collection came while Rowe was listening to a podcast that mentioned how wasteful the industry was. 
It was a "lightbulb moment," Rowe said. "I was like, 'What is the answer?' And then I was like, 'Oh, of course! Clothing that can change with you.' The main body of the clothing would stay the same, but then you could restyle it and change it in different ways, and get the most out of your clothing."
In an industry that can be dominated by trends and fast fashion, Rowe is trying to remain unique while also making clothing that can appeal to a large audience.  So, at the fashion show in October, Rowe introduced his latest clothing line, Chrysalis, which focuses on upcycling shirts and pants with unique artwork, sewn onto the clothing.
Almost all of Chrysalis' designs feature a small figure standing on top of a boundless platform. The shirts and pants are unique and combine art with fashion — the idea being that people can wear them on the street or in the office. Rowe's runway designs were an exaggerated version of the shirts that he sells, and featured sleeves and pant legs that were asymmetrical, passing the boundaries of where these parts of the clothing typically end. 
"The capsule collection is called The Long Journey," said Rowe, describing his latest group of designs. "I'm just super excited for people to see it; I think it's going to resonate with a lot of people."
And, one unique reason why Rowe's Chrysalis lines are also sustainable is that the styles are meant to be evergreen.
"I try not to chase trends too much," said Rowe. "I like to do a nice medium of what I think is really cool, and then classic silhouettes that are easily digestible to a broader market," said Rowe.