Makeup has been a significant part of Paige DeAngelo's life for as long as she can remember.
She started using makeup at age eight for dance competitions. As a teenager, she was fascinated with makeup influencers on YouTube. In college, she pursued a career in meteorology and broadcast television.
Then one day, while reporting on sustainability for a Drexel University TV show, she came to the realization that her daily makeup routine created a lot of waste. She looked for sustainable products, but couldn't find any. 
So she went to CVS and spent $20 on ingredients to try to make her own mascara. 
"I couldn't find anything at all that was waste-free," said DeAngelo. "So that's kind of where it started and I was like…`What if I just tried to make it?'"
Today, DeAngelo, who grew up in Haddon Township, is the founder and CEO of Aer Cosmetics and has a patent pending dissolving mascara tablet. Her mascara is made from vegan and organic material, is not tested on animals, and comes in a reusable, dishwasher safe container. It is created with refillable tablets and a dissolving solution.
It is also run-proof, sensitivity-free and will not smudge after a long night of dancing.
According to the United Nations data and Simmons National Consumer Survey, there are approximately 108 million mascara users in the United States alone. The average lifespan of a mascara is about six months to a year, meaning that over 200 million mascara tubes are used every year. Many mascara companies use plastic to make their products, which can take up to 500 years to decompose. 
When she realized the impact that a sustainable mascara could have, she pitched her product idea to Drexel University's entrepreneurship co-op, which provided an opportunity to receive scholarship funding and work on her business full-time.
Since then, she has been building a product, formula, and brand, taking Aer to pitch competitions, even going as far as South Africa where she won first place for the United States at the Global Student Entrepreneurship Awards. She graduated from Drexel in 2023.
Charles Sacco, the Vice Dean of Educational Affairs at Drexel's Close School of Entrepreneurship recalled seeing DeAngelo in class one day covered in what looked like "black charcoal."
"Her hands, her shirt and everything, her work area… she was clearly experimenting with her product and trying different things, and it was just a complete mess," said Sacco. "But I knew at that point that she was willing to get her hands dirty – like literally get her hands dirty – and that she was dedicated to this."
In addition to its environmental benefits, DeAngelo also wanted to ensure that the quality and price of the makeup was the best it could be. 
"A lot of people think sustainability is like a privilege and something that's a luxury," said DeAngelo.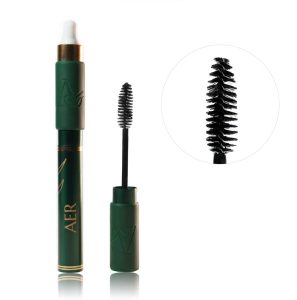 The lifespan of the tablets is made to mimic the general public's buying habits when it comes to mascara. The starter kit is priced at $35, and comes with the mascara wand, solution and enough mascara to last the average person between three months and one year depending on how much they use it.
"It really depends on the customer, but either way you can subscribe to your own timeline on how often you want to refill or get a new order of tablets," said DeAngelo.
Erin Nipps, a graduate student at Drexel University, has been friends with DeAngelo from the very beginning of the ideation process. A dancer herself, she's had the opportunity to test the product and is a fan of the formula, but also how versatile it is for the customer.
"She's all about making this product be as adaptable as possible, so that it works for anyone also, while being sustainable, which of course is the main great thing about this mascara," said Nipps.
The product is not yet for sale. But eventually it will be sold exclusively online, and pre-order will be available in November via the Aer Cosmetics website.
DeAngelo hopes that the people who wear her mascara will not only feel confident in themselves externally, but internally as well, when they think about the impacts of buying a more sustainable product.
"At the end of the day, makeup is just an accessory, and it just highlights our already natural beauty," said DeAngelo. "So I just want people to feel confident in themselves and whatever look they're creating, and then feel good about themselves, because they're also doing something to help themselves and everybody else."