By Tara Lonsdorf | October 7, 2019
With a grant from the National Endowment for the Humanities, two professors at Rowan University have created a new program in Environmental Humanities.
Dr. Jordan Howell is an Assistant Professor at the Department of Geography, Planning and Sustainability and Dr.
is an Assistant Professor in the English Department.
"I study the environment, but I'm not an environmental scientist," Howell said. "I study the human, cultural, political and economic dimensions of environmental issues. So for me, one of the types of insight that we miss a lot of the times when we study environmental problems, are the contributions of history, philosophy, literature and the humanities, broadly defined."
Howell and Crowley first applied for the NEH grant in 2016, the first year that such a grant competition had ever been held. It has allowed them to fund their work for three years.
To Crowley, all knowledge is useful. He hopes that this program will change some students' skepticism about the usefulness or applicability of gen-eds to their comprehensive educations.
"The grant itself is to help humanities engage other parts of society, other parts of the university — which I think Jordan and I both have a really strong interest in, especially at a place like Rowan where STEM is so strong — and I believe the humanities is also really strong, but there aren't a lot of opportunities to interact with each other," Crowley said. "The specific topic around environmental issues, we both recognize, is so vital, and so it really should be a focus of what we're doing as a university, as individuals. To be able to collaborate between STEM and humanities around this issue is…a no-brainer."
Environmental Humanities is available as aCertificate of Undergraduate Study (CUGS) which is open to any student in the university.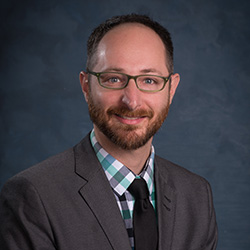 A series of lectures by visiting professors has taken place for the study on campus over the course of the past two years, and new classes were also created to accommodate for the focus on Environmental Humanities. These span multiple colleges and departments, including those in English, Philosophy and Religion Studies and Engineering.
Crowley, for example, teaches a new section of the Experiencing Literature gen-ed, which focuses much of its analysis on the environment.
"I teach a lot of literature from environmental perspectives," he said. "Literature has a tendency to privilege things like culture and language, and those kinds of interpretive, subjective kinds of things — and to be somewhat skeptical of the absolutes of science. And then we confront something like environmental crisis — that if you're saying, 'Well, you could interpret this differently,' you run into moral problems and complications. The idea of scientific literacy — how many people in our society are skeptical of climate change, just because they don't have enough scientific literacy? Even when you're studying a novel, knowing something about science, something about engineering, can be really productive."
Along with the CUGS, the program also recruited "faculty fellows" who were interested in the relationship between the environment and the humanities. These fellows developed 15 unique learning modules which can be used in classrooms both at Rowan and in universities around the world — all available for free via the Rowan Library.
This story is part of The Whit's participation in a statewide climate reporting collaboration with members of the NJ College News Commons, a network of campus media outlets working together to cover the climate crisis in New Jersey.