Dr. Andra J. Garner started a discussion about the effects of climate change in New Jersey by asking participants to complete a poll about the words and feelings that come to mind when they think about climate change. There was a common theme among the answers: anxiety, helplessness, panic, frustration, fear. 
Garner said she recognized the feelings of dread many people have when thinking of climate change. She told her listeners that, by the end of the discussion, she wanted to give them information about progress that would leave them with a little more hope for the future. 
Climate change is "becoming very well understood by at least 97% of scientists," Garner, an assistant professor within Rowan University's Department of Environmental Science, said. She added that the most recent United Nations report on climate change stated: "It is unequivocal that human influence has warmed the atmosphere, ocean and land."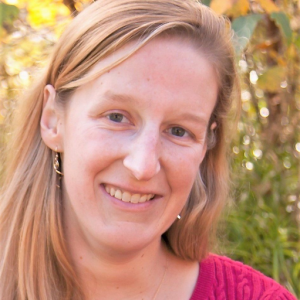 Garner was the main speaker in the discussion about climate change in an event held on April 5 and sponsored by the Hollybush Author Series. Her research includes studies investigating changing flood risk in New York City from the past millennium through 2300 CE due to tropical cyclones, storm surge, and sea-level rise, as well as projects related to the evolution of 21st century global sea-level rise projections. 
"In 2020 New Jersey Department of Environmental Protection put out a scientific report on climate change," Garner told the audience. "They found that New Jersey is warming faster than the rest of the northeastern U.S., as well as faster than the rest of the world on average." 
Garner also explained that sea level rise occurs faster in NJ compared to other parts of the U.S. due to glacial isostatic adjustment. This term refers to a massive ice sheet that covered the region during the last ice age. The ice sheet compressed the land, causing the edges to rise. Now that the ice has melted, the edges of the land are sinking back down into the ocean. Sea level rise and extraction of too much groundwater in coastal areas also contributes to the sinking, she said.
New Jersey has been feeling other effects of climate change. The state has been experiencing  weather extremes such as floods, hurricanes, and tornadoes, like the one that devastated homes in Mullica Hill last fall. 
Following the destruction of the tornado in South Jersey, Gov. Phil Murphy, said in a press conference that residents of the state must be prepared to respond to more extreme weather events. The tornado that struck the area was considered a remnant from Hurricane Ida, which made landfall in Louisiana on Aug. 29, 2021. In northern and central New Jersey, 30 residents died from floods that were associated with Ida.
"The world is changing," Murphy said. "These storms are coming in more frequently. They're coming in with more intensity. 
"As it relates to our infrastructure, our resiliency, our whole mindset, the playbook that we use — we have got to leap forward and get out ahead of this," he added.
Garner noted in a recent article in sjclimate.news that it is "typically very difficult to associate any particular event with a changing climate." She added, "Tornados, in particular, are a phenomenon that are very difficult to study, and so we are still learning a lot about what kinds of impact a changing climate might have on such systems."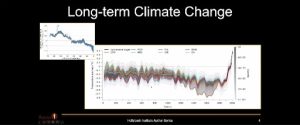 Flooding is another area in which New Jersey has been hard hit, particularly due to the effects of climate change. New Jersey is vulnerable to sunny day flooding, which occurs in coastal communities not because of storms, but because sea levels are gradually getting higher. When the tide is exceptionally high there can be coastal flooding in the streets. Water levels have gotten too high for the infrastructure of the states' coastal communities to handle. 
To add to this issue, Garner shared, "a 7.4-foot flood would happen on average only about every 500 years. It's a very rare event, something you might never see in your lifetime." Within the 21st century, however, "this type of a flood could happen on average about every 25 years," Garner said. "That's largely due to higher sea levels."
Yet, "When we talk about climate change, we also want to talk about solutions," Garner also noted. "We need action at all levels of our society to start dealing with this problem on time at those larger scales."
Voting for politicians—from the local level to the national level—who care about climate change, is an action that some may take, Garner said.
"We have a challenge, but it also has a solution," Garner reassured the audience. "Climate change is happening now, and it's happening because of us, which can be scary but that's also good news. Because we know that we're the problem, we can, and really must be the solution. I think it would be much scarier if we were dealing with [the impacts of] climate change and had no idea what the problem was. Or worse, if we knew the problem was something we had no control over. 
"We already have at our disposal the technology we need to combat future climate change," Garner added.. "We have access to hydropower, wind power, solar, carbon capture, we have all of these technologies already available and they are always being improved."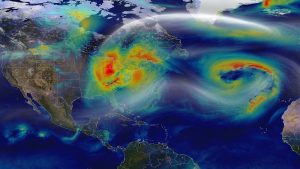 Garner also mentioned that in 2020, New Jersey met its goal of reducing emissions from power plants by 20%. The state is now working towards a new goal of achieving 100% by 2050. In some cities, electric buses are being rolled out. The state is investing in offshore wind and trying to advance a clean energy economy. 
"One thing that really gives me hope is [climate change movements]," Garner expressed. "Especially the youth climate assessment. That's been something over the last few years that has been really inspiring. We're [seeing] younger generations trying to take a hand in their future and making their voices heard….finding a way to make sure we are talking about it. A lot of these movements are making headlines. It brings the conversation around the dinner table." 
Garner is currently conducting research related to the impacts of a changing climate on natural hazards. This includes the effects of sea-level rise on tsunamis, and evolving characteristics of tropical cyclones and storm surge in a changing climate. Garner has spoken to a wide range of audiences at a number of venues about her work, ranging from the NJ March for Science 2018 to high school classrooms.