Editor's Note: The New Jersey Department of Environmental Protection has announced it is spending $19 million to restore 10,000 acres of the Atlantic White Cedar in New Jersey, according to an April 25 article in NJ Spotlight News. 
By Ciara Wenger
Have you ever wondered what a forest of ghost trees looked like? Greys and whites littering where bright colors shone in the light. Their bare branches hanging overhead, it is a haunting sight to see. Just across the way, healthy trees linger, drawing everyone's eye away from the growing graveyard. 
Look no further. The Atlantic White Cedar tree, scientifically known as Chamaecyparis thyoides, is a native tree to New Jersey's wet forests, marshes, and wetlands. The Atlantic Cedar has been a favorite tree of New Jersey residents for centuries. The native Lenape tribe that still reside within New Jersey, see these trees as sacred, while early settlers who came to this land chopped down tree after tree for homes and ship building. The wood was light, flexible, and durable, which made it ideal for use.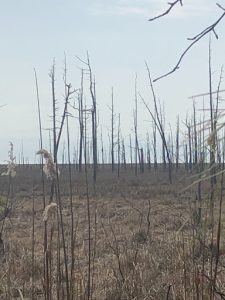 The Atlantic White Cedars now are being affected by the effects of climate change. These beautiful trees have since been dying at a faster rate over the last 30 years due to the sea-level rise. There is a dangerous close connection between sea-level rise and the Atlantic White Cedars.
Inundation is defined as an overwhelming amount of something. In the case of the Atlantic White Cedars, it has been observed that there has been an overwhelming amount of saltwater that is killing these trees. 
The Atlantic Cedars need freshwater environments to thrive. As ecosystems and landscapes shift and change, so does the land that these trees thrive in. The amount of land that these trees are able to survive in is retreating as these freshwater habitats are being replaced, according to Dr. Jennifer Walker, who works in the Department of Earth and Planetary Sciences at Rutgers University.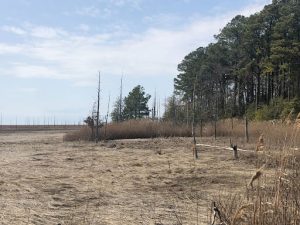 "Over time you're getting these changes in landscapes and ecosystem shifts, so your forests are kind of retreating backwards, and then saltmarsh environment's kind of moving in as sea level is rising over time," Walker said. 
Walker's research "has focused on mostly reconstructing past sea level on thousands of year time scales in New Jersey and on the U.S. East Coast," she said. Walker uses the past patterns of New Jersey's coast and sea levels to aid in predicting future sea levels and patterns. 
Sea level rise in New Jersey is also being studied carefully by many scientists across New Jersey, including Walker and others. New Jersey's sea level has been seen to be accelerating, according to both Walker and the New Jersey Department of Environmental Protection. The NJDEP's website explains the concern for the sea level rise from storm damage, which can cause major issues such as "increase of rainfall, chronic flooding, and increase in chronic heatwaves." These side effects of sea level rise are affecting every aspect of New Jersey's natural landscape, resources, and life. 
Bob Williams, a native New Jerseyan, has been in the forestry service for over 30 years. Williams started the Pine Creek Forestry that focuses on helping forest landowners, for both corporate and private forest owners. 
While he has been involved with many projects, such as fire restoration, ecological forest management, and forest products, Williams also has been working on restoring the Atlantic White Cedars in Laurel Springs, New Jersey. Williams notes that the trees also have their own effects on climate.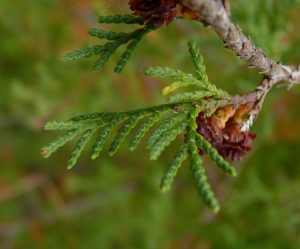 "They're also storing tremendous amounts of carbon," Williams said. "In the organic soils, they're probably critical to water quality groundwater recharge, so there's a lot of ecological  services that they provide." 
Williams explained that the Atlantic Cedar trees are sequestering, or taking in and hiding carbon, as well as storing carbon. This is an effect that many trees do, which is another factor as to why these forests are so valuable to the environment. 
The Atlantic Cedars also provide many other ecological services, which is the benefit provided by ecosystem processes that moderate natural phenomena. According to the Natural Wildlife Federation, ecological services can range from pollination, erosion control, and carbon storage. These services that these trees are providing are highly beneficial and valuable. 
Cutting down trees is something that has been proved to help the restoration processes, despite arguments from activist groups. This may seem strange, but, in certain cases, it helps to preserve the surviving trees. Williams said he had seen himself that cutting away the dying and rotting trees was the best way to preserve the surviving ones.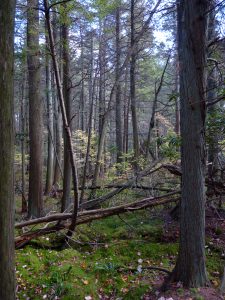 This strategy is supported in an article posted by Bill Cook of Michigan State University Extension. The article argues that cutting down trees can lead to positive impacts, such as regeneration within the forests. Cutting down these dead or dying trees provides a chance for new trees to grow and also can lead to better forest health as well.
Alongside that, the strategy helps improve habitats for species so they all have a reliable habitat. It also helps people shape the forests for the future. This can be beneficial for many reasons, such as building homes, clearing lands, adding roadways, farms, and much more. 
So even though it may seem strange, cutting trees, like the Atlantic White Cedars, can be beneficial for the group as a whole, and to save those who are still able to be restored. 
However, "We can't afford to lose much because there's not much to lose," Williams noted. "In my view, we've reached the tipping point where the loss is exceeding the forest's ability to regenerate itself. And it's going to get worse. It's not going to get better."