Reducing the amount of meat in your diet, limiting food waste, and eliminating single-use plastics were just some of the inventive ideas local high school and middle school students came up with as an approach to managing climate change. These ideas were part of a Student Climate Challenge Competition held by Sustainable Jersey, in partnership with Atlantic City Electric.
This competition aimed to collect and implement real, sustainable and efficient climate change solutions within South Jersey. It also worked to educate and interest younger generations in this global problem.
"This generation of students will feel the impact of climate change more than any other and they understand the critical need for innovative climate action," said New Jersey's First Lady Tammy Murphy in a press release. "The creativity, passion, and advocacy displayed by our students through their projects fills me with hope for the future and certainty that New Jersey's youth will be the future leaders of the climate movement for our nation and the world."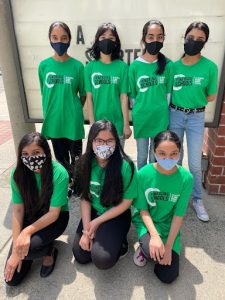 Teams from all over New Jersey competed for grant money by brainstorming these solutions, researching their impacts and submitting a video essay explaining their ideas. 
Winning first place in the high school division, a Winslow Township High School team was the recipient of a $2,500 grant. The team, consisting of students Gabriella Robinson, Janaya Sharpe, Leila Quatorze, Annika Erickson and teacher advisor Carolyn Tagmire, stressed the potentially negative environmental impact of eating meat. 
"We do monthly challenges in our [environmental] club and the one monthly challenge that we've always been passionate about is the Meatless Mondays," said Tagmire. "And coming up with the idea of how our food impacts our carbon footprints and how despite not eating meat on [just] one day a week makes a big difference."
The students discovered that livestock such as cows and the processes involved in animal agriculture emit an alarming amount of greenhouse gasses such as carbon dioxide and methane and utilize excessive amounts of water. These gasses remain in the atmosphere once emitted, capturing the heat that radiates from the Earth's surface and containing it in the lower atmosphere. This trapped heat, then results in rising temperatures and the subsequent effects. 
Another harmful impact of cattle farming is the destruction of local habitats. As the demand for meat increases, so does the amount of space needed to contain and care for that livestock. Creating that space through deforestation results in habitat loss. 
In addition, a lack of trees in the region exacerbates the issue, as it decreases the amount of CO2 that can be sequestered in that area. Taken all together, this results in more CO2 being emitted while simultaneously decreasing the amount of greenhouse gasses that are removed from the atmosphere. It's a self-containing and damaging cycle.
By reducing the amount of meat we consume, even by just a single day, we can drastically decrease the amount of livestock needed to meet demands. This idea led the team to create a digital cookbook filled with easy, inexpensive, meatless meal ideas.
The cookbook included recipes alongside interesting tidbits regarding how this small change can make a huge difference. A report by University of Michigan's found that, in some cases, swapping out a beef burger for a veggie burger generates about 90 percent less greenhouse gas emissions.
The $2,500 grant will go towards further environmental projects at Winslow Township High School, such as removing plastic from the environment and providing the public with more information on how to live an Earth-friendly lifestyle.
"Projects like these allow those students to be empowered and realize that they can make a difference, and not only are they making a difference for themselves, they're making a difference for others," said Tagmire. "That's what makes these projects so great."
In second place was Penns Grove High School with a team consisting of two students, Stefano Fiducioso and Bailey Ricks, and teacher-advisors Vicki Palaganas and Jason Brice.
This team tackled the food scene in a much different way; their project focused on the importance of buying local. When you purchase your produce and goods from a local farm, you can drastically reduce the amount of waste created by packaging, transportation and resale.
They also targeted the issue of food waste. According to an article by Feeding America, about 108 billion pounds of food is wasted in the United States each year. That food winds up in landfills until it begins to decompose and release more methane into the atmosphere. 
By shopping local and reducing the amount of food we throw away, we can decrease usage of unnecessary resources and reduce our greenhouse gas emissions. 
"People throw out too much food and it ends up in the landfill, produces methane, which is carbon dioxide on steroids, and contributes greatly to climate related problems," said Palaganas. "This became a secondary topic, however, as Bailey and Stefano dug deeper into some of the unique challenges the community faced."
A local supermarket is planning to close, which means Penns Grove will be faced with the possibility of becoming a food desert. This essentially means that it becomes too expensive or too difficult for members of the community to obtain access to good-quality, healthy food. 
The Penns Grove team earned a $1,000 grant that will go towards their aquaponics program. An aquaponics system is meant to simulate a natural lake. It allows for the growth of plants, which in turn produce the nutrients the fish need, and vise-versa. It produces both fish and produce like fruits, vegetables and herbs without wasting resources. These fish and produce can be used to feed their community and help ward off malnutrition and food insecurity.
"I want my students to know that strategies exist to make a difference when challenges arise.  Their voices are powerful," said Palaganas. "Experiences like this empowers our youth to be agents of change and offer hope for a brighter future."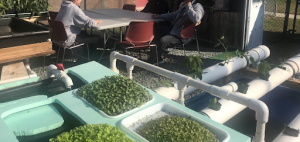 Coming in third place in the high school division was Clearview Regional High School. The team consisted of six students – Lily Cloyd, Bella Cale, Karissa Szymanski, Kelsi Kraus, Karlie Kraus, Harman Kaur – and teacher advisor, Maureen Huhman. 
Their approach to climate change focused on the issue of food waste. They educated members of the public on how their actions can affect their food waste and measured the member's independent actions afterward. This allowed them to see how simple education can go a long way in convincing others to be conscious about their environmental presence. 
Coming in first place in the middle school division is a team from Sovereign Avenue School in the Atlantic City School District. This team consisted of seven students – Aysha Ruponte, Reanna Lawan, Tasnova Tayeba, Tasfia Tanha, Amy Chowdhury, Rai Chowdhury and Mahi Patel – and two teacher advisors – Amy Barbetto and Dione Tsoplakis. Together, they created a student-led initiative focused on reducing the amount of single-use plastic products found on and around the Atlantic City shores. 
"Ironically, this mission aligned with Governor Murphy's Ban on Single-Use carryout plastic bags in New Jersey," said Patel. "Which will now make most households plastic free."
As a part of their initiative, the team created a website called "Plastic Free AC" which aimed to educate the public about how harmful plastic can be to the environment.
Their mission statement listed on their website reads: "As an organization, we will educate others about the dangers of plastic, the impact it has on climate change, and how we all can do our part to help contribute to a safer environment, by coming up with other sustainable solutions."
As a reward for their hard work, the team won a grant of $2,500 to go towards their continuing effort to remove plastic from their beautiful beaches. This includes "fun and informative" educational webinars regarding the effects of plastics on the environment.
"The Climate Challenge was a wonderful opportunity for The Plastic Free AC committee to identify a problem, conduct research, plan for ways to address this issue, and then ultimately take action," said Tsoplaskis. "These experiences motivated our kids which resulted in them being fully immersed in the student-led process to spark change [and were] an inspiration to these amazing future leaders… We cannot wait to see how they will utilize the awarded grant money to further their actions." 
Coming in second place and receiving a $1,500 grant was Winslow Middle School's Green Team consisting of Madison Kanter, Alyvia Janicki, Cynai Clayton, Neima Dominguez, Carlie Farren, Jada Johnson, Cassandra Juarez, Christina Munford, Hannah Velez, Lindsay Gumiit, Rashad Harris, Ginger McCarty and teacher advisor Ayana Griffin. This team took a more community-focused approach to a climate solution. They wanted to get their community involved and to do so they asked their peers to share photos of them engaging in energy-efficient activities, such as recycling or using sunlight to read rather than a lightbulb. 
In addition, the Green Team created posters and shared tips with their community on how they could make small but powerful changes in their lives, such turning off the water when they brush their teeth or turning off the lights when they leave a room. Students were encouraged to spend time outside and research their environments.
Their submission video included lots of videos and photos of people in Winslow actually taking these actions – a powerful testament to the influence of these young people.
In third place was Winslow School 5. The team 'Radical Rugrats' consisted of Hadiya Gaie, Angie Suarez Ortega, Destin Swann and teacher advisor, Claudine Nelson. They focused on the impact of greenhouse gasses on the atmosphere and the difference composting could make in reducing the amount of methane and carbon dioxide that is being released into the atmosphere by landfills.
The next round of the competition is open to teams from grades 6-12 until April 1, 2022. A teacher or club advisor simply needs to fill out the entry form located on their website. Then students will work together to create a video report outlining their climate change solutions. Students are encouraged to think creatively and critically to create effective, sustainable solutions to one of the biggest challenges of the century. 
"Climate Change continues to impact our communities," said Melissa Lavinson, senior vice president of Federal Governmental and Regulatory Affairs and Public Policy for Exelon Utility.  "From the recent EF3 tornado in Gloucester County to more severe thunderstorms and hurricanes, programs like the NJ Student Climate Challenge have never been more important in helping to raise awareness of the need to act and respond."