Coastlines all over the globe are affected by erosion daily. Sea level rise, strong wave action, coastal flooding, storms, and other natural events wear down and carry away rocks, soils, and sands from the coast. This gradual process causes our shorelines to shrink, resulting in loss of land. 
While erosion may be a natural process, climate change is working to accelerate the effects. According to the BBC, the size of Wales is changing due to coastal erosion. An estimated 71,000 properties are currently at risk of flooding in Wales from tidal sources and there are indicators that it will only get worse. This phenomenon is leading many small communities to relocate to make space for rising waters.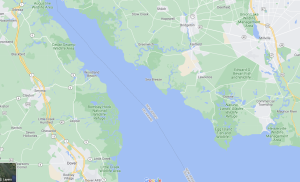 Seabreeze, a coastal community in Cumberland County, also may be one of these communities. Located on the shores of the Delaware Bay, Seabreeze is an unincorporated community within Fairfield Township. 
The town was once a thriving community boasting landmarks such as the Warner House, the Seabreeze Hotel, and the Seabreeze Tavern. However, the area has faced substantial damage due to coastal erosion and flooding. In an article about the history of Seabreeze published in nj.com, reporter Don E. Woods wrote, "It's not a ghost town but you would be forgiven for thinking it. Standing on the beach, it feels like you reached a lost frontier." 
Today, Seabreeze Road is the main street that leads into the community. It is covered on either side by salt marshes and the tide slowly floods the road. There is an alternate route blocked by a sign reading "Private Drive No Thru Traffic." The road here is blocked and a secondary sign reads, "Sea Breeze Houses Are Still Occupied. Please Respect Our Property." There are 12 houses that can be seen from the opening of the road, but visitors are unable to progress further than that.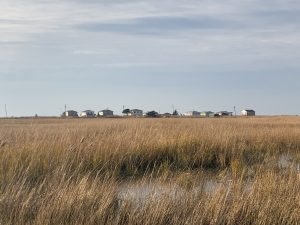 Kate Schmidt, communications specialist at the Delaware River Basin Commission, noted, "Communities near the Delaware Bay are already routinely impacted by tidal flooding, storm flooding, as well as sunny-day flooding. Increasing sea level will further impact communities and exacerbate the flooding already occurring."
A History of Rising Tides
In 2006, The Department of Environmental Protection put up a seawall in an attempt to hold back the encroaching tide. It was unfortunately wiped out almost immediately. In a 2019 article, it was reported that 19 homeowners offered to sell their homes to the DEP to protect themselves from any further damages. 
Courtney Wald-Wittkop, the Project Manager of the Sandy Blue Acres Buyout Program, explained that the general buyouts were done through the program. The Blue Acres program involves money that is set aside within the state land acquisition program of the Green Acres program, Wald-Wittkop said. The Blue Acres program's objective is to help people move from floodway and floodplain areas that are known to be vulnerable to climate change and sea level rise, she said.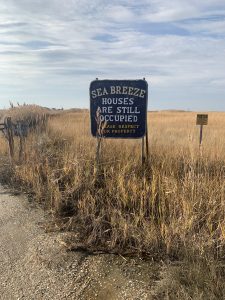 "Those funds that we spent at Seabreeze were really to remove the structures because the seawall had failed," Walk-Wittkop stated. "And so the Division of Fish and Wildlife said, 'We'd be willing to take the land out here, leave it as, open land for people to go fishing and for habitat and things like that.'"
Offers were made to several homeowners in Seabreeze, but most of them were secondary homes, Wald-Wittkop said. It became less about the flooding and more about the fact that the beach cottages in the area were defunct, they deteriorated over time, they were vandalized and damaged from storms, she said.
John Keane, a long time resident of Bridgeton who had frequently fished near Seabreeze, said, "No one really lives there anymore. The homes are mostly seasonal, but the houses are otherwise impossible to get to. The streets will flood and then you're pretty much stranded."
The remaining structures needed to be removed because they were unused. Once removed, the land can be dedicated to open public space or transfer the land for protection. Many signs are posted around the community declaring, "Visitors Welcome. Wildlife Preserves."
There are multiple benefits from open public space, as outlined by The U.S. Climate Resilience Toolkit website, including buffering storm surges, safeguarding coastal homes and businesses, sequestering carbon and other pollutants, creating a nursery habitat for fish species, and restoring natural wildlife habitat.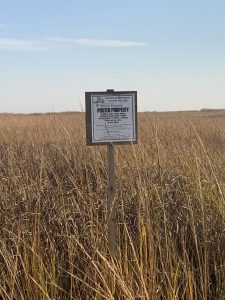 With various environmental forces at play and the failed seawall, it is hard to come up with solutions to this problem without impacting homeowners. While Seabreeze is a unique situation, many small coastal communities do not have the funds to restore their coast either by shoreline hardening, beach nourishment, or other means.  
What becomes the right decision for these smaller communities? Many homeowners bought into the area not knowing that they would one day be affected by climate change, sea level rise, and flooding.