SJ Climate News is pleased to announce the winners of its High School Climate Change Writing Contest. Juniors at Timber Creek Regional High School in Erial, N.J., participated in the contest. Students submitted essays and articles about climate change in the region. The first-place winner was Taylor Harken, the second-place winner was James Wells, and third-place finisher was Jason Williams. Their articles appear below.
Damages to Homes Due to Flooding
By Taylor Harker, 11th Grade, Timber Creek Regional High School
More and more people seem to be struggling with damage to their houses caused by heavy rainfall. According to nj.com, 2018 was the wettest year in New Jersey, when 38% to 41% of all      of the days in 2018 were at least partially wet. David and Diane Harker of Sicklerville, N.J., were interviewed about what damage floods have caused to their home.
When a flood occurs in someone's house it can damage a lot of things including walls, carpets, and electronics. David Harker described a recent flood at his family's home.
"The flood caused some damage in my basement that I wasn't happy about. I had to rip up the carpet and replace it with new carpet," David exclaimed.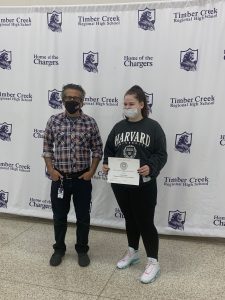 Many people get mad when this happens to them. If a house is on a hill, the rain can leak into someone's home and damage their possessions and the house's foundation as well. Floods cause extensive damage to homes to the point where people have to move out for a little while so their house can air out from mold.
Luckily for this family, they didn't have to move out of their house for it to get repaired because it wasn't a major problem.
"It also caused some mold, but it wasn't really that bad," said David. With a lot of people, floods ruin their entire home. The flood gets too bad to the point where it ruins the walls and the ceilings. Floods can ruin a family's life because they might not have or make enough money to fix their house so they end up moving in with a family member or even become homeless in some situations.
There are ways to prevent molding after a flood occurs. According to mastertechmold.com, it says to act fast and dry out everything as soon as possible.
"Your home or business needs to be properly and thoroughly dried out as soon as possible," according to the website. "You should dispose all non-salvageable, porous materials immediately."
Drying out the place immediately can help prevent mold from growing. If things that have water damage to them don't get dried out right away, it might be a good idea to get rid of them because the fumes can cause major health issues. It is not safe to breathe in the fumes of mold.
A lot of people's houses were flooded in New Jersey in 2012 because of Hurricane Sandy.
"There  was also a time during Hurricane Sandy where rain was seeping through our front door and caused a tiny puddle, but nothing major," David said.
Many people had to leave their homes because of the extensive amount of flooding that was caused by Hurricane Sandy. A lot of people had to rebuild  their homes because of this hurricane.
Not only did Hurricane Sandy flood homes, but it completely destroyed many homes as well.
"Also called Superstorm Sandy, it caused $70.2 billion worth of damage, left 8.5 million people without power, destroyed 650,000 homes, and was responsible for the deaths of at least 72 Americans," according to worldvision.org.
So many people had to find new places to put a roof over their families. Many families lost loved ones due to this hurricane destroying so many houses.
Overall, floods can cause major damage to people's homes and end up with them spending a lot of money to get the damaged fixed. If they have insurance, that might cover the cost of the damage to the actual house. The insurance can't cover the cost of what personal items were destroyed in the flood. If they have insurance on electronics that were damaged, then they might  be able to get new electronics at no extra cost.
Fossil Fuels are Impacting Public Health and the Environment in New Jersey
By James Wells, 11th Grade, Timber Creek Regional High School
Humans are now paying the price for the burning of fossil fuels that has been occurring for over 100 years. The United States gets more than 80% of its energy from fossil fuels: coal, petroleum, and natural gas.
The high demand for fossil fuels stems from their low cost and their easy ability to store or transport. They create energy to move our cars, power businesses, and keep the lights on in our homes. However, New Jersey is now seeing the negative effects of fossil fuels with deadly air and water pollution, global warming, and its impact on public health.
Fossil fuels originate from the buried remains of plants and animals from millions of years ago, giving them a high carbon content. Coal, oil, and gas are compounds formed from carbon and hydrogen. The bonds between these compounds store energy and by burning them in the presence of oxygen, the bonds are converted to heat energy. During this process, an excess  of carbon dioxide in the atmosphere can result.
Climate impacts are hitting New Jersey harder than most states with sea level rise twice the global average. Temperatures in New Jersey are also rising faster than the national average. Too much CO2 in the atmosphere increases the greenhouse effect and this trapped heat eventually leads to the effects of global warming, like the  melting of ice caps and increased ocean levels.
It's important to pay attention to the effects of fossil fuels because it not only impacts the environment, but also public health. Air pollution, which is one of the many negative effects of burning fossil fuels, causes hundreds of thousands of deaths every year in the United States. New Jersey alone continues to have some of the most polluted air in the nation, mostly from the diesel and coal plants and fossil fuel projects.
For NJ residents, air pollution from fossil fuels has led to major health problems like asthma in children and adults, lung cancer, and chronic obstructive pulmonary disease. About 650,000 New Jersey residents suffer from asthma, and high levels of smog and pollution can trigger asthma attacks, which kills 100 children every year.
"Unless the state starts acting more aggressively to reduce pollution we will continue to see a bigger impact on public health, and our lungs,'' according to Jeff Tittel, director of the New Jersey Sierra Club.
Many people are also taking steps to find alternatives to fossil fuels, like using renewable resources, solar energy, and wind energy. For example, New Jersey has developed three campaigns: 100% Renewable, Go Solar, and Go Big on Offshore Wind, according to Environment New Jersey. Utilizing more renewable resources and switching to solar or wind energy can have many positive impacts on New Jersey and contribute to getting rid of fossil fuels and air pollution.
Addressing the effects of air pollution and finding climate solutions would allow for immediate benefits. Turning away from burning fossil fuels could lead us toward a clean energy future.
"To reduce the risk of a global environmental catastrophe, and to avoid reversing the course of human progress, the world must urgently bend the curve of global emissions away from fossil fuels." – Johan Rockstrom
Climate Change is a threat to humanity. But who is to blame? Is the source of the problem us?
By Jason Williams, 11th Grade, Timber Creek Regional High School
Xavier, a student at Timber Creek Regional High School in Erial, New Jersey, tells of his concerns living as a teen living in the 20th century, when climate change is a humanitarian crisis.
"I wasn't aware of just how big the issue was at first, but since the beginning of the school year I've learned much more about it thanks to my teachers in school," says Xavier.
He goes  on to explain how thankful he is that climate change became the main focus of the class. "[My teacher] really opened my eyes to the situation, but it still boggles my mind that it's been an issue for so long. It made me realize how much room for improvement New Jersey has, when it comes to being environmentally friendly."
The first time global warming  became front page news was back in 1988, according to sources. We've known about the issue for many years, with more and more advocates speaking out in drastic ways (ex. Greta Thunberg of Sweden).
What is the reason the climate is changing you may ask? Global temperatures are rising due to greenhouse gas emissions, or gasses that retain heat within the atmosphere, which is drastically affecting different environments. Colder environments aren't supposed to be getting hotter. Yet climate change can and is causing snow and ice to melt, which causes sea levels to rise. Rising sea levels can cause coastal flooding and increase severe weather events. In 2017, Hurricane Harvey alone cost an estimated $125 billion in damages.
The smallest actions are creating snowball effect with time, so that might raise the questions: Who's to blame? What can we do to help? Was it a specific generation or a collective effort? The simple answer is us.
According to a study by the Climate Accountability Institute, 70 percent of the world's greenhouse  gas emissions over the previous two decades are attributable to  just 100 fossil fuel producers. This means not only are we responsible for increased emissions, but we are making it worse.  Unfortunately even with all that evidence those companies are under no legal obligation to make changes.
However, that doesn't mean there's nothing we can do. Every small step you take can and will help a collective effort to save the planet, thinking of ways to waste less, using energy wisely and being conscious of our carbon footprint are all actions we can take.
Yet the issue is too big to solve alone and until the government starts taking aggressive action toward climate change, the world will remain under a known threat. An example of a possible step to take in New Jersey would be to make it mandatory to have buildings of a certain size have solar panels on the roof. Big buildings like malls and stores would provide a large source to collect energy from, which could then cut back on the energy use in a given area.
One of the most ambitious ways solar panels have been used is in sidewalks. A 2018 study by a Hungarian start-up Platio stated, "In crowded areas, they have limited spaces to mount panels. Fortunately, a startup in Hungary developed a product based on installing solar panels in sidewalks and providing clean energy  to nearby buildings and electric vehicles." This would mean being able to power electric cars and getting fuel powered cars off the road.
Vehicles play a big role in the amount of greenhouse gases reaching the atmosphere. According to a study by the U.S. Environmental Protection Agency, "Greenhouse gas emissions from transportation accounted for about 28.2 percent of total U.S. greenhouse gas emissions, making it the largest contributor of U.S. greenhouse gas emissions." If there are plans to cut back on emissions from cars, then those would be  major steps to take towards fighting climate change.
If only people were better informed about climate change in schools, if only there were steps being taken to combat climate  change, if only people cared about our planet.
SJ Climate News thanks judges Dr. Carl Hauman, Dr. Ted Howell, Professor Mark Berkey-Gerard, and Dr. Dianne Garyantes of Rowan University for their participation in this project. We'd also like to thank Dr. Elliott Karetny of Timber Creek Regional High School for helping to organize the contest.