By Chris Friend and Brittany Garrison
The NJ Department of Environmental Protection has a new plan for Atlantic County that promises to make the area more resilient in the fight against climate change and the threat of rising sea levels.
Under the Resilient NJ program, the NJDEP is creating the plan in two phases. Phase One will "bring together municipalities, counties, utility authorities, community-based organizations, and other regional entities with consultant teams to identify community assets, assess current and future flood risks, and develop various potential actions to address flooding," according to the NJDEP website.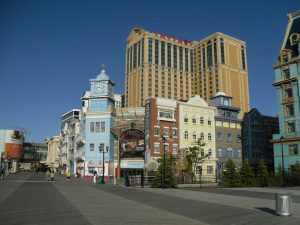 Phase two is going to involve implementing planning actions that were developed in Phase One. The nine counties in New Jersey designated to participate are those most impacted by Hurricane Sandy in 2012, including Bergen, Hudson, Essex, Union, Middlesex, Monmouth, Ocean, Atlantic, and Cape May. 
Program officials hope to start off the first phase of the project by winter of 2022. The resilient program is aiming to assist the NJDEP in identifying the short- and long-term issues of the shore communities, such as trash clean ups from the beach to climate change, according to the NJDEP.
Resiliency in the face of climate change is important in order to anticipate, prepare for, and respond to hazardous events related to climate, according to the Center for Climate and Energy Solutions. Climate change cannot be reversed so it is imperative to assess the risks and take better steps to cope with them.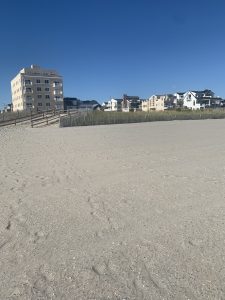 Local residents say they have seen the effects of rising sea levels and flooding. Atlantic City native Lucas Valiante commented on the rising sea levels.
"I've absolutely seen changes in the sea levels," he said. "My parents have a house they rent out and they've had to do numerous renovations as result of flood damage which wasn't an initial issue when they got it." 
Many Atlantic County residents see the effects of sea levels rise and bear the brunt of it. Ventnor City residents, Filomena, 75, and Joseph D'ambrosio, 80, have lived in Atlantic County for 20 years and have had to evacuate their home twice.
"We don't feel safe, but we don't want to relocate," they said. Both Valiante and the D'ambrosio's said they were unaware of the state's new resiliency program when asked about it. 
The South Jersey coast is a popular vacation spot for millions of people in the region. From the top of Sandy Hook to the tip of Cape May Point, there are 130 miles of New Jersey beaches. According to the Resilient NJ website, It boasts 27 million visitors per year, making it one of the United States' most visited tourist destinations.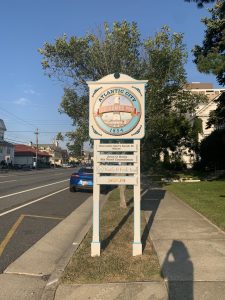 Atlantic County contains casinos, restaurants and entertainment, conventions, beaches, and other scenic areas that harbor various wildlife species. There is a large year-round population and burgeoning economic growth in Atlantic City. 
However, all of these things are threatened by rising sea levels, natural disasters, and climate change. These phenomena threaten the very infrastructure of coastal towns, and, more specifically, Atlantic County. New Jersey's sea level rise is increasing rapidly. Since 1950, the sea level in the Atlantic City region has risen by 12 inches, accelerating over the last 10 years to increase more than 1 inch every 5 years, according to David Kutner, planning manager for New Jersey Future. 
This sea level rise could spell destruction for 45,000 properties, extinction for many wildlife species, and the erosion of beaches. Unfortunately, rising sea levels also means that hurricanes are even more damaging, as with Hurricane Sandy in 2012. The hurricane made landfall near Atlantic City and caused $37 billion in damages to the state. 
In the wake of Hurricane Sandy, the U.S. Department of Housing and Urban Development (HUD) established the National Disaster Resilience Competition (NDRC), providing $1 billion to communities affected by natural disasters, according to the NJDEP. The competition aimed to better prepare communities for future storms and other extreme weather events that come with the increasing threat of climate change.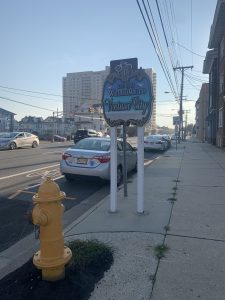 In January 2016, the State of New Jersey was awarded $15 million from the competition made by the HUD. Approximately $10 million of the funds will be used for the Resilient NJ program. 
The New Jersey Department of Community Affairs also has undertaken a flood prevention program within Atlantic City. Lisa Ryan, spokesperson for the NJDCA, said that the state intends to continue working with Atlantic City and other partnering authorities, including the Casino Reinvestment Development Authority, to ensure successful completion of the projects within the federal expenditure deadline.
Ryan noted the NJDCA is convinced the projects undertaken under the resilience program in Atlantic City would immensely benefit families falling under low- and moderate-income bracket households. The projects are primarily aimed at mitigating the devastating effects of floods in neighborhoods within Atlantic City, like Chelsea Heights and the Inlet that is home to families with limited financial means.
Some of New Jersey's most economically disadvantaged towns can be found in this area. For example, the average household income of Atlantic City as of 2019 was $29,232, compared to the New Jersey average of 38,238.  
Meanwhile, the Covid-19 pandemic has stretched municipal and county budgets thin, according to an article in The Press of Atlantic City. Addressing infrastructure improvements without raising taxes on property owners puts even more pressure on this region. 
Regarding the cost of the program, Ryan cited a $20 million budget funded by the federal Community Development Block Grant Disaster Recovery (CDBG-DR) funds.
Ryan stated further that the program is currently focused on the design phase, which would be followed by the construction of programs as allowed by available funds. She noted that the design and engineering processes of the program were already completed, and the award of construction contracts was anticipated in the coming month.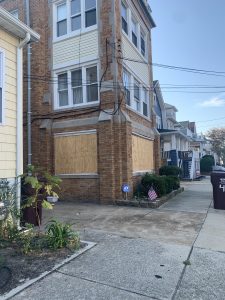 In April of this year the state released its climate resilience strategy, which outlines six priorities to make NJ more resistant to climate change impacts. The priorities, according to NJDEP, are as follows: 
Build resilient and healthy communities, including the dynamic and adaptive ability of a community to employ available resources to endure, respond to, and recover from bad conditions as referred to as community resilience. 

Strengthen the resilience of New Jersey ecosystems, as the state of an ecosystem has a direct impact on its health as well as the health and well-being of citizens who live and work nearby.

Promote coordinated governance, which

 

means that the State must come together to enhance resilience to climate change impacts.

Invest in information and increase public understanding. Every day scientists learn more about how climate change is influencing current trends and what people may experience in the future. 

Promote climate informed investments and innovative financing, which will require public investment. 

Form a coastal resilience program, representing early steps of a long-term strategy for climate change resilience and adaptation. 
The coastline will see more flooding as sea levels rise, putting the state's buildings at greater risk. The plan recommends new buildings and houses be built higher than they are now to be able to withstand the five feet of sea level that is predicted to occur over the next 70 years.  
All climate change plans must not only handle the management of beach and dune systems, but also the coastal areas that surround them.