By Jennifer Rosado
The New Jersey Economic Development Authority (NJEDA) and construction company AECOM Tishman held a town hall-style meeting at Salem Community College to address questions and concerns of Salem County residents regarding the upcoming construction of the New Jersey Wind Port.
Citizens of Salem County expressed concerns mainly about whether the port would bring jobs to Salem County natives and how soon those jobs would be available. Representatives from NJEDA and AECOM Tishman used this town-hall meeting on Sept. 28 to address these concerns.
According to NJEDA, the construction of this wind port has the potential to create over 1,500 jobs. Emphasis was placed on the fact that many future employees do not need a college degree in order to work at the site. Tishman will be waiting on unions to recruit those who have trade skills in welding and manufacturing.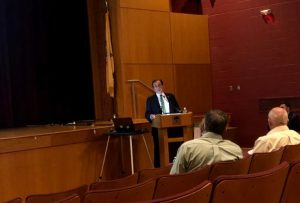 The New Jersey Wind Port will take up 200 acres of land and adjoin Salem County's nuclear power plants, which are owned by PSEG Nuclear LLC. The port will be placed on an artificial purpose-built island offshore the Delaware River, and is expected to cost more than $300 million once the project moves into action, as reported by the Associated Press.
Groundbreaking of the port took place last month, led by Gov. Phil Murphy.
"What we are doing is not only going to create good jobs, but it is going to be our greatest stand against climate change," Murphy said, according to the AP.
Construction on the port will begin in December and will be conducted by AECOM Tishman and managed by New Jersey's Economic Development Authority. They plan to complete the project by 2023, according to NJ Spotlight.
NJEDA Chief Economic Growth Officer Brian Sabina said the development of the New Jersey Wind Port will include the dredging of a channel in the Delaware River, along with the construction of a wharf in order to load barges and installation vessels to travel to the site.
Sabina explained that there would also be the construction of a 30-acre area just for marshalling, which is the staging and assembly of the wind turbines themselves so that they will be able to be transported into the sea with ease.
"That's the game changer. I don't use that word lightly," said Sabin. "It is fundamentally a game changer. People around the world will know Salem County in Lower Alloways Creek has a hub for offshore winds." 
The construction of the New Jersey Wind Port has been in the works for a little over 10 years now. According to NJ.com, former Governor Chris Christie signed an offshore wind power bill in 2010.
Sabina further explained that NJEDA is receiving $213 million in budget funding along with $44 million in a partnership with Delft Offshore Turbine (DOT), a wind turbine manufacturer, for the dredging aspect of the project, according to Sabina. Legislation was passed in order to collect more funding for the project if and when necessary, he said.
Sabina emphasized the importance of ports, procurements, and people during the journey of this project. The growth of the offshore wind industry is what has been driving the authority to begin building this infrastructure in the first place. 
The NJEDA does not plan to stop here. Sister locations are in the works as well. They plan to build a network of ports across the state in order to help reach President Joe Biden's goal of clean and renewable energy by 2035, according to The Guardian.
Salem County, known for harboring three nuclear power plants on its shores, originally was famous for its glass production and monumental glass factory. It later had a halt in production for years and ultimately shut down. By moving towards wind ports as an alternative energy source, the county has the potential to revitalize.