By Amanda Bingham
Ocean Wind, the heavily anticipated wind energy project off the coast of South Jersey, moves into its next stage of development with the drafting of an Environmental Impact Statement.
The Federal Bureau of Ocean Energy Management (BOEM) on April 20 held the last of three virtual scoping meetings about the Ocean Wind Project. Officials from BOEM, the NJ Department of Environmental Protection (NJDEP), the NJ Board of Public Utilities (BPU), and Danish sustainable energy developer Ørsted gave presentations concerning the project's development and next steps.
Ocean Wind is a joint venture of Ørsted and PSEG, a New Jersey utility company. The project consists of a wind farm located off the shore of South Jersey. Consisting of 98 turbines and three offshore substations, the project will be capable of powering 500,000 homes, said Pilar Patterson, permit manager for Ocean Wind.
"There's going to be two substations constructed onshore, and they will be constructed within the footprint of existing decommissioned power plants, namely Oyster Creek, a former nuclear power plant, and BL England, a former coal power plant," said Patterson.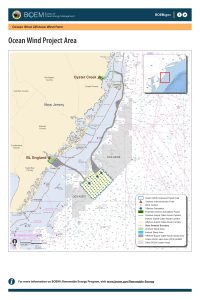 The Oyster Creek Nuclear Generating Site is located in Lacey Township, Ocean County, and the B.L. England Generating Station in Upper Township, Cape May County. The 1,100 megawatt capacity of Ocean Wind is greater than the capacity of these two decommissioned generating stations put together.
The presentation from Ørsted also addressed concerns over the project's visual impact.
The wind farm's final layout places turbines at a range of 15 to 28 miles off the coast, an increase in distance compared to the project's previous proposed layout. According to Patterson, this layout minimizes visual impact, meets clean energy goals, and would not interfere with shipping or coast guard activities. In addition, after reviewing available data on the location of fisheries along the coast, Ocean Wind was able to conclude that there would be very little overlap between the wind and fishing areas.
"Looking at the long term gains instead of the short term profits offshore wind power could help stem the tide of rising water and help to hold our game fish species along our shores and slow many species from northern progression," said Capt. Paul Eidman of Reel Therapy Fly & Light Tackle Fishing Charters, a commenter during the public scoping meeting.
This video, from BOEM, shows photo simulations of the view of the wind farm from Bay View Park, Atlantic City, and Stone Harbor.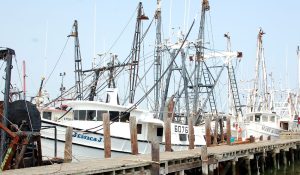 In previous public hearings, participants raised concerns about the wind farm's potential impact on marine life. These concerns stem from the fact that export cables, running onshore from the offshore substations, would be buried under the seabed. Others voiced concerns about construction at the onshore connection points, one of which would be located at 5th, 15th, or 35th Street in Ocean City.
Other public commenters, like Deborah Coyle McFadden of the NJ Work Environment Council spoke in support of Ocean Wind.
"We can't lose sight of what offshore wind can bring to NJ," she said. "It's projected the wind port alone could bring 500 million in economic activity annually."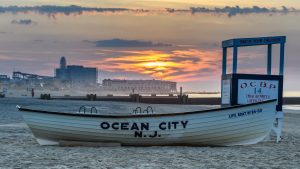 Commenter Stanislav Jaracz showed support for how clean energy will make other industries, such as electric vehicles, even cleaner. "The turbines represent… our ability to cope with climate change by replacing dirty fossil fuel with clean and cheap renewable energy," he said.
The project's Environmental Impact Statement, or EIS, will cover potential biological, physical, and socioeconomic impacts, said Brian Krevor, Lead Environmental Protection Specialist at BOEM. The draft of the EIS is set to be released in May 2022.