By Miguel Martinez
The lack of a proper curriculum that helps students understand climate change is a real issue, according to a research scholar from the Earth Institute at Columbia University.
Dr. Radhika Iyengar of the Columbia Earth Institute told a group of university and high school students at a summit last month that, through her time studying climate change, she has advocated for a change in the curriculum that students learn in school. Iyengar pointed out that one of the goals of the United Nations is providing the opportunity for education and the preservation of the planet, and the combination of those two goals should call for change in the education system.
Community-based work is part of what students needs to learn, she said. It is effective "even if there are two people that meet to chat about a particular issue," Iyengar said.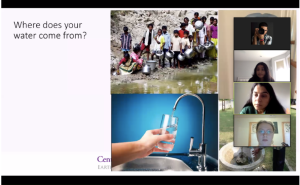 Iyengar, associate research scholar with the Center for Sustainable Development (CSD) at The Earth Institute at Columbia University, was the keynote speaker on Saturday, Nov. 21, at the New Jersey Student Sustainability Coalition's 2020 Fall Summit. About 10 students attended the event that included the talk by Iyengar, other discussion about climate change, and workshops. Because of the Coronavirus pandemic, the summit was held virtually with participation from students from all over the state from different levels of education.
The summit was part of a larger initiative by different organizations and institutions around New Jersey. Earlier in the week, the Rowan Environmental Action League (REAL) hosted an event with the Food Recovery Network where it organized discussions about the global issue of food waste and how the issue affects Rowan University.
Navyaa Jain, a high school sophomore, was one of one of the organizers and participants of the summit. Jain had the idea to invite Iyengar as a guest speaker as soon as she learned about her work at another conference.
Jain explained how this summit focused on young people of high school and college age and that Iyengar's work in education and climate change aligned with the goals of the conference.
"I don't think I learn enough about environmental science" or its connection with other sciences in her formal education, Jain said.
"The entire point was to get more involved with environmental activism," Jain said. She explained people close to her ask how they can get more involved or what they can do to help the cause. As an organizer of the event, she found it to be a great opportunity for more people to get involved.
Participants of the conference had the opportunity to be part of interactive workshops on artistic activism, plastic policy, and organizing basics. In the workshop Artistic Activism, participants had the opportunity to compose their own protest music and art work after learning from the presenters.
At another workshop, Intro to Plastics Policy, the participants had the opportunity to discuss the history of environmental policy around the world.