By Dylann Cohn-Emery and Erin Welsh
Southern New Jersey's forests, marshlands, estuaries, bays and beaches are rich with wildlife. The area is an essential stop on the Atlantic migratory flyway and home to more than 470 kinds of fresh and saltwater fish.
However, many birds and fish are threatened by shrinking habitat, temperatures increase and rising sea levels.
Changes in Bird Migration Patterns
The woods and coastline of South Jersey provides a critical place for birds to rest and feed during their migration. But as the climate changes, so do the migration patterns of animals.
"When you think about a bird leaving its neo-tropical wintering grounds in Central or South America and then coming up to New York or New Jersey, that's a leap of faith that everything is as it has always been," David Wheeler of Conserve Wildlife Foundation of New Jersey told WNET-PBS. "But in reality, as spring seems to arrive earlier each year along with the leaves, the foliage, the insects, basically the bird risks coming back to a depleted prey resource – and they can struggle to survive."
This means that some birds are at risk, while others are finding their way into new and unfamiliar habitats.
"There are birds that are showing up more so, that come farther north than they used to," said Bill Reinert, an entomologist and wildlife biologist. "As the temperature warms up, different species are showing up."
Loss of Nesting Grounds
By 2050, sea level rise is expected to rise by approximately one foot, according to the New Jersey Resilient Coastal Communities Initiative. But already scientists are beginning to see the effects of more frequent flooding.
Christina Davis, an environmental specialist with the Endangered and Nongame Species Program in New Jersey, works to preserve nesting grounds along the shore.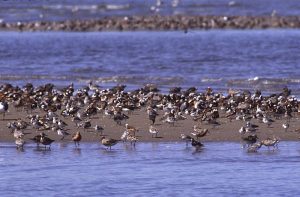 "These are all birds that are adapted to being ground nesters, low on the marsh, the grasses on the rack line," said Davis. "And so, as those islands sink and also get inundated with water, there's one habitat for them to use and they're more prone to flooding."
Flooding, particularly in May and June, can hurt eggs since that is the bird's breeding season. She said the eggs can be submerged for a short period of time, but if there is significant flooding then the eggs will be washed away, which can wipe out "entire colonies, hundreds and hundreds of birds, in one fell swoop."
Even when eggs do survive, young hatchlings can struggle to regulate their own temperature without shade. To help the birds combat this, she and her coworkers put out what they call "kick shelters," small wooden boxes that the birds can use for shade.
Warmer Temperatures Threaten Aquatic Life
Warming water temperatures alter the chemical balance of waterways, currents, and the amount of plant life, which can in turn affect species of marine animals and fish that feed on this type of food.
Kenneth Able, a distinguished professor and director of the Rutgers University Marine Field Station, has been collecting larval fish from the inlet near their Tuckerton field station once a week for the last 30 years.
"Bottom line is, over that time period, we are seeing more southern species and fewer northern species," Able said. "At the same time we are seeing increasing water temperatures, we think due to climate change, and the fauna is responding."
Able works primarily with estuarine fishes, as well as other animals that live in that environment such as seals, dolphins, crabs and scallops. The fishes he has been collecting data on reproduce in the ocean, but the young grow up in estuaries, or where the mouth of a river meets the sea or ocean.
"Not only is the larval fish fauna changing, but also some species are arriving earlier than they used to," said Able. "That's shown for a number a species."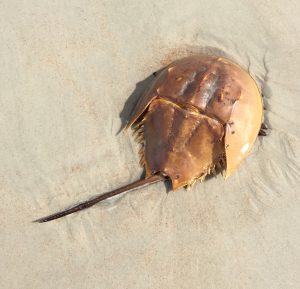 Preserving Beaches for Wildlife
Recently, Able has also helped with reef-building to protect the beach area where horseshoe crabs that lay their eggs. Shore birds like the red knot, which frequents Cape May area, rely on these eggs for food as they finish their migration.
In 2014, the U.S. Fish and Wildlife Service warned that a subspecies of the red knot has as declined by an estimated 75 percent over the past two decades.
"The interesting thing about that cycle is everything is tied together," said Able. "So if these beaches are worn down, there's less chance for horseshoe crabs, there are less horseshoe crab eggs laid, so there's less food for these red knots, and so on," said Able.
It is not enough to just replenish beaches with sand. Human efforts to protect against climate change must take wildlife into account.
"It can't just be focused on what is the best solution for people, because there's this whole suite of animals and plants that also need help," said Davis.