By Mohamed Nada
The city of Hoboken's law suit against big oil companies over the effects of climate change is likely to be affected by an upcoming review of a similar case by the U.S. Supreme Court.
The Supreme Court is expected to consider next year what sort of information appellate courts can consider when deciding whether climate change suits against oil companies will be heard in state court or in federal courts, according to reports in The Washington Post and Bloomberg Law. The case to be considered by the high court involves a suit filed against big oil companies by the city of Baltimore, although it also is expected to affect a dozen similar lawsuits seeking damages for climate change effects from cities and states across the country.
Hoboken recently filed a complaint in Superior Court of New Jersey against some of the largest global oil companies—Exxon Mobile Corp., BP P.L.C., Royal Dutch Shell P.L.C., Chevron Corp., ConocoPhillips—and the American Petroleum Institute to seek damages to the city caused by the increasing effects of climate change. The Baltimore suit targets 21 U.S. and foreign energy companies involved in the fossil fuel industry, according to an article in MercoPress.
Hoboken is the fifth most densely populated city in the country, according to the city's complaint, and it sits on the banks of the Hudson River across from New York City. "More than half of Hoboken's residents, half of its schools, and all of its hospitals, rail and ferry stations, and hazardous waste sites are within five feet of its high tide line," according to the complaint. In addition, the number of high tide flood days has already more than doubled since 2000, the complaint states.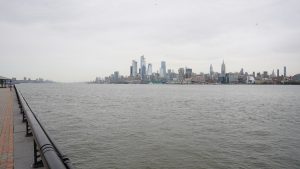 The "Defendants, some of the world's largest fossil fuel companies and their largest trade association, have known for more than a half-century that the fossil fuels they extract, produce, market, and sell on a massive scale are causing accelerating climate change that poses grave threats to society—sea level rise, extreme heat, and increasingly destructive storms, among many others," according to Hoboken's complaint, which was filed in Superior Court of New Jersey.
The attorneys for the city also argued that in 2012, Superstorm Sandy left 80% of Hoboken underwater and stranded 20,000 city residents. Estimates of the damage in Hoboken caused by Hurricane Sandy were $100 million, according to nj.com.
Journalist Michael Sol Warren, who has been covering this issue for nj.com, said: "Hoboken's main point here is that they are leaning very hard into making this into a consumer fraud case, and they are basically saying that Exxon and the other oil companies failed to tell consumers about the consequences about burning fossil fuels and oil, and the failure to tell consumers lead to the consumers burning more and not thinking anything is wrong."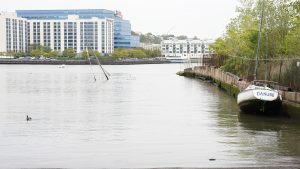 Attempts to obtain a comment from the American Petroleum Institute, which represents all segments of the U.S. oil and natural gas industry, according to its website, and is named in the Hoboken suit, were unsuccessful.  According to an article from the Center for Climate and Energy Solutions (C2ES), oil and gas companies have been taking steps toward addressing climate change by helping to reduce its effects.
The Shell oil company, for example, has launched a program to reduce its net carbon footprint, setting as its target a reduction in its total footprint by 2 to 3 percent below 2016 levels, according to the C2ES article. Shell also acknowledges that its mix of products will also change, which means investing in clean energy, such as wind and solar generation. BP, meanwhile, is investing in StoreDot, an ultra-fast battery charger for electric vehicles, the article said.
According the Pay Up Climate Polluters website: More than 17 municipalities, five states, the District of Columbia, and one industry trade association have filed suit against the world's largest fossil fuel companies, charging they are deceiving the public and policymakers about the dangerous climate impacts their products would cause.
The states or cities which are suing the oil industry include: The State of Delaware, Charleston, N.C., Hoboken, N.J., Baltimore, Md., and Boulder & San Miquel Counties, Colo.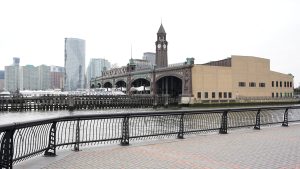 Hoboken's plan
Meanwhile, Hoboken has begun mitigation efforts to address climate change. Hoboken's spokesperson Vijay Chaudhuri outlined the city's climate action plan. "The Plan aims to reduce GHG emissions from major emission sources identified in the GHG emissions inventories through climate actions," the plan states. "The plan recommends actions that are both cost-effective and feasible."
The plan looks to prioritize the following strategies:
COMMUNITY
Make Hoboken Electric Vehicle (EV) friendly by establishing favorable zoning, ordinances, on-line training, community education, and access to EV charging infrastructure
Make Hoboken solar friendly by establishing favorable zoning, ordinances, outreach program, and purchasing program
Conduct residential and community energy efficiency outreach
Employ various community education, incentives, and audits to lessen energy consumption and promote walking, biking, and mass transit
MUNICIPAL GOVERNMENT OPERATIONS
Purchase renewable power for municipal buildings
Install solar energy systems
Install LED lighting (e.g., street lights and traffic lights)
Conduct energy audits and energy efficiency upgrades
Phase in hybrid and electric vehicles to the municipal fleet
Phase in Compressed Natural Gas (CNG) buses into HOP local bus service fleet
Increase HOP transit frequency
Consider incentives for employees who commute via non-vehicular transportation or electric vehicles