By Scott Fitzpatrick
NEW BRUNSWICK – Three former New Jersey governors discussed their past efforts to address climate change in the state and urged continued action to deal with the issue.
Former Govs. Thomas Kean, James Florio, and Christine Todd Whitman, who still advocate for better policies on climate policy after their tenures in office, discussed how climate change was on their agendas during their time as governors. The virtual presentation, sponsored by the New Jersey Climate Change Alliance, took place on Oct. 2.
Kean, who served as governor from 1982 to 1990, read an Executive Order from his administration about the need to address the release of carbon and other emissions into the atmosphere because they will result in climate change and its subsequent effects.
"I wrote that over 30 years ago," he said. "We have known and there has been scientific consensus for well over 30 years. And we've done some things, but, as you know, not nearly enough.
"The question is, what are we going to do now?" he asked. "We have so much less time than we did 30 years ago."
Whitman, who served as governor from 1994 to 2001 and was administrator of the Environmental Protection Agency from 2001 to 2003, said scientific evidence of the threat of climate change has gotten stronger since her time with the EPA and the issue now has moved to the top of the national agenda.
"I think this is going to be the first election, that I can remember anyway, where an environmental issue is going to be part of the discussion because climate change is at the forefront right now," she said. Weather-related events during the past year in the U.S., she noted, include the fires from the droughts in the West and flooding, storms and hurricanes in the Gulf Coast.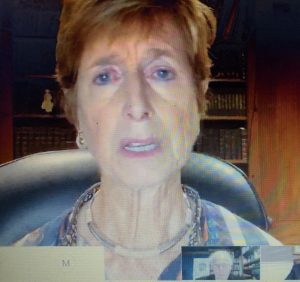 "This has been an extraordinary year that have brought these issues to the fore, which makes it more imperative that you have leadership at the top that accepts this as an important issue," she added. "It's tough when you're fighting against a message from the bully pulpit that says we really don't have to pay much attention to it."
New Jersey's problems have been rising like its temperature. Since 1895, New Jersey's average annual temperatures have increased by 3.5°F, with five of the warmest years occurring after 1998, according to data from the state Department of Environmental Protection.
Over the last decade, precipitation in the state has experienced a 7.9% increase over the long-term average, while in Atlantic City, the sea level has risen by an average rate of 1.5 inches per decade, which is approximately double the global rate of sea level rise, according to the DEP.
Florio, who served as governor from 1990 to 1994, said the implications are that over time climate change will affect us more and more. For example, one regional planning association study predicted that Teterboro Airport in North Jersey will be underwater within 15 years.
"That's a reality. That has implications for all kinds of assets of our life," he said. "Ultimately the inevitability of some of the consequences of not doing anything…become very obvious."
Kean noted that science and scientists have been explaining what governments and citizens need to do to address climate change. The question is the will to do it.
"We've got to redoubled our efforts, the time is shrinking, the need is great, the actions we have to take are tremendous," he said.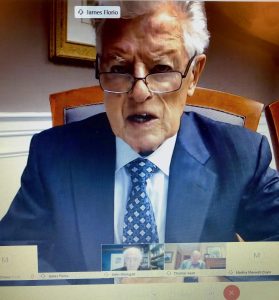 "But I think in New Jersey we can do it," he added. "New Jersey can overcome problems, and we always have in the past. This is the biggest problem we have. I think if we all care about it and work together, I think New Jersey should be able to lead the nation because being the most crowded state, and one of the smallest with a long coastline, we have maybe the greatest problems."
New Jersey Climate Change Alliance has started its 10th year off with its second presentation. Rutgers University in New Brunswick hosted the public Zoom meeting to air a group discussion on climate change and the effect it has on New Jersey. The conference held on Oct. 2 was sponsored by: Energy Foundation, PSEG, BayShore, NJM Insurance Group, New Jersey's Clean Energy Program, Maser Consulting, and The New Jersey Conservation Foundation. Rutgers's Eagleton Institute cosponsored the event.
The organization will meet for a third meeting later in October.